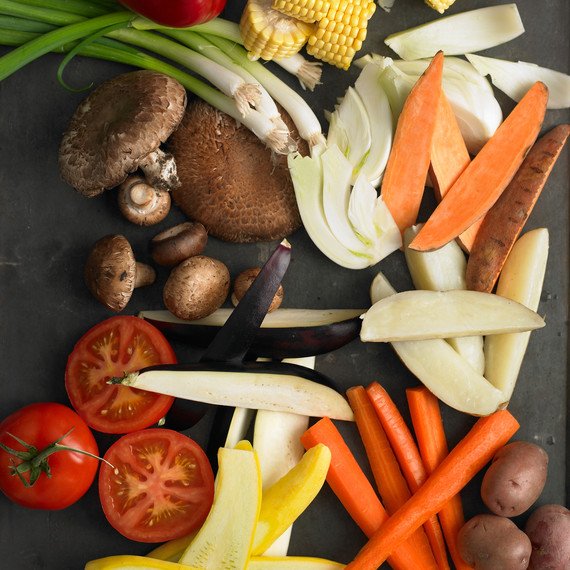 You've added greens to every plate, sworn off sweets (other than at your cake tasting, of course!), and have guzzled so much water you practically float. But as the countdown to wedding day dwindles down, you're committed to being your healthiest possible self. Great! But there's no need to overhaul your entire diet. Nutrition pros swear that you can de-puff, ditch stress, and give your skin a boost with a few easy swaps. New York dietitian Brigitte Zeitlin and L.A.-based nutritionist Kelly LeVeque dish out their best advice.
To Lean Out, Ditch...
Cookies and Cake
Those with a sweet tooth can indulge in a bit of dark chocolate, says LeVeque. The relatively painless trade "helps lower your sugar intake," notes the founder of Be Well By Kelly.
Pizza Crust
Using a cauliflower-based crust is a great way to lower carb intake, explains LeVeque. And there's no need to whip up your own—she prefers a variety from California-based company Cali'flour.
Flour
There are plenty of ways to trade it out in recipes, says LeVeque, author of Body Love. "If you're making turkey meatballs, instead you could use flax meal. That's going to up your fiber and help you detoxify and feel great."
To Squash Stress, Get Rid Of…
Cheese
Instead of adding Feta to your lunchtime salad, toss in some avocado, suggests Zeitlin, owner of BZ Nutrition: "It's high in B vitamins that help to soothe your jitters. It's also a great source of potassium that works to reduce the physical effects and signs of stress, like puffy eyes and trouble sleeping."
Popcorn
Popping edamame into your mouth instead may leave you more relaxed, says Zeitlin. The veggie is high in magnesium, notes the pro, "which can help minimize mood swings."
To Debloat, Skip…
Broccoli
Though they're healthy and low in calories, cruciferous vegetables like broccoli and Brussels sprouts are known bloaters. LeVeque advises swapping them out for a leafy green such as spinach or arugula. Or try asparagus, suggests Zeitlin. A natural diuretic, it helps your body get rid of excess water.
Club Soda
The air pockets that give the drink it's delightful fizz can puff you up, warns Zeitlin, who recommends sipping on unsweetened green tea or water with lemon instead.
Apples
With their high sugar and fiber content, the fruit "can contribute to some stomach discomfort," notes Zeitlin. Try snacking on a banana instead. High in potassium, they help rid excess sodium from your system.
To Score Glowing Skin, Trade Out…
Chicken
While it's an excellent source of lean protein that leaves you feeling full, opting for salmon or another fish high in omega-3 fatty acids (think: mackerel or sardines) will give your skin a boost. The omega-3s, explains LeVeque, "really hydrate you from the inside out."
Cauliflower
Again, the veggie is a fantastic healthy option, but if you're looking for firmer skin, bell peppers are the way to go. Their vitamin C "helps to boost collagen production, which is the protein our bodies use to keep our skin firm, plump and young," says Zeitlin. "And it's great for keeping your hair strong and healthy!"