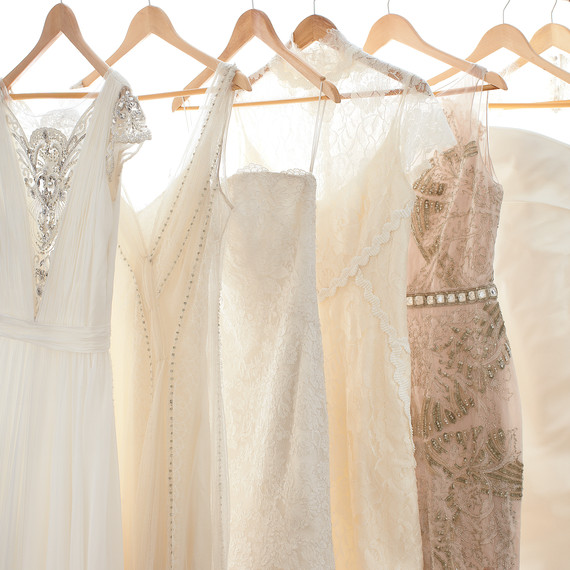 If sustainability is a top priority for you, there's a lot from your wedding that be reused. Furniture, dishware, and décor can be rented, flowers from centerpieces and bouquets can be repurposed, and leftover food from your festivities can be donated. But what about your wedding dress? If you're looking to free up space in your closet or want to give your garment a second chance to shine, you can share your gown with those in need.
We spoke with Mary Alice Stephenson, a style and beauty expert and the founder and CEO of GLAM4GOOD, to learn how her non-profit organization uses donated wedding and bridesmaids' dresses to help others.
What is GLAM4GOOD?
"After 15 years of working in the fashion and beauty industries, I started GLAM4GOOD as a way to use my love for style to honor courage, raise awareness, bolster self-esteem, dress people in need, and empower women and girls," shares Stephenson. "What began as a personal mission has now become a thriving movement, community, empowerment platform, and 501(c)(3) that creates and celebrates fashion and beauty making a social impact." Essentially, GLAM4GOOD aligns with various causes, using fashion and beauty as tools for giving back.
How does GLAM4GOOD use wedding dresses?
GLAM4GOOD uses donated clothing—including wedding dresses—for their many initiatives. Donated gowns may be utilized in a number of ways. "We recently used a grouping of bridal dresses that designer Mara Hoffman donated to help a Harlem-based high school choir group in need of performance attire," Stephenson says. "We also use donated bridalwear for our many prom initiatives. Our #GLAM4GOODgirls love to wear glamorous white gowns to prom, and we have used thousands." Additionally, gowns can be worn in awareness-raising fashion shows, or included in #shoppingspree4free events. Whatever the case, "GLAM4GOOD uses these gowns to ignite joy, empower self-esteem, and shine the spirit of many women and girls in need," Stephenson promises.
What about bridesmaids' dresses?
GLAM4GOOD also helps women who can't afford bridesmaids' dresses. With the help of their donors, including designer Tadashi Shoji and women just like you, they "can aid groups of bridesmaids in need."
How can you get involved?
Stephenson recommends reaching out to the organization at info@GLAM4GOOD.com. In your email, you can let them know what you're interested in donating.