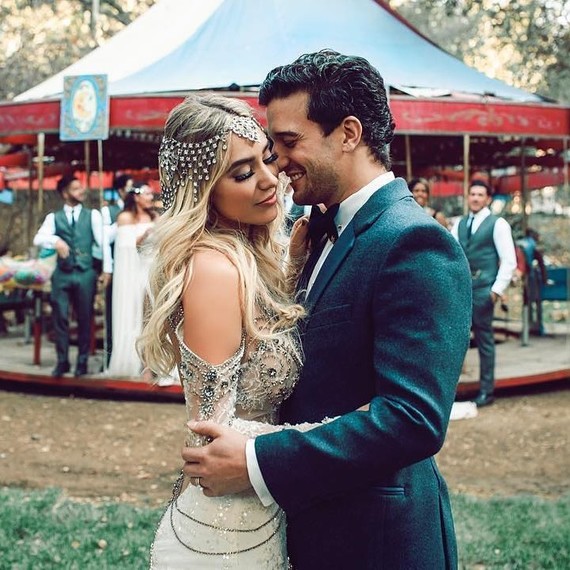 Mark Ballas and BC Jean, who make up the band Alexander Jean, were married in a bohemian-inspired ceremony last November. The event was so amazing that the couple's newest music was inspired by the day, and clips from their wedding film are featured in one of their music videos. As beautiful as it looked, Ballas admits the wedding wasn't all picture-perfect—there was a major big-day glitch!
"I teared up when she walked around the corner and I saw her," Ballas recently told People. "She walked the aisle to 'Bohemian Rhapsody' by Queen, which is one of my all-time favorites," he shared. "It was funny, because they played the wrong version—they were meant to play the symphonic string version, but they played the real version," he revealed. "So all of a sudden she turns the corner and we hear: 'Is this [the real life]?'" Oh boy! "Freddie [Mercury]'s voice is booming through my ceremony!" he continued.
Luckily, before the groom could panic, his Dancing with the Stars costar, Derek Hough, calmed him down. "I turned to Derek at the time, my best friend, I was like, 'They're playing the wrong version!' He goes, 'Relax, man. You love Queen.' I was like, 'I do love Queen,'" Ballas shared.
Rest assured, the rest of the wedding went swimmingly, and Ballas and Jean have learned a lot about each other since the wedding. "Back when we were dating, we pretty much knew everything there was to know about each other—we'd traveled together, we'd lived together, we'd been through ups and downs together," he said. "We'd kind of worked on all the things that we loved in our relationship and that we knew we needed to work on. We fought for this relationship, and that's why it feels so solid now, but we never really spent much time in the kitchen. Then we became obsessed with these cooking shows and trying to eat healthier, and she's become this amazing chef," he explained. "I come home and she's like, 'Look at these stuffed peppers I made!'" he admitted. "She's making incredible meals at home. I was like, 'Who are you?!'" Sounds like a good surprise to us!