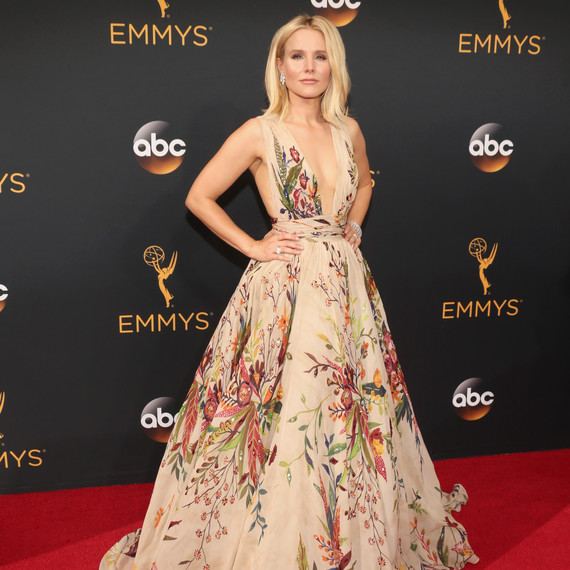 Kristen Bell was just spotted wearing a wedding dress, but to answer the burning question that will surely be on every fan's mind: No, she's not remarrying! The actress donned a full-blown bridal ensemble while filming her new Netflix comedy. Daily Mail released photos from the set and explained why the white dress is crucial to the plot.
On Monday, Bell was spotted in New York City's Central Park wearing a wedding dress. Her simple gown featured spaghetti straps and a sweetheart neckline, and she wore her hair in a bun. She was also carrying a bridal bouquet filled with white flowers, and she completed her look with a pearl necklace. While she certainly appeared ready to walk the aisle, the getup was just for her new Netflix feature, titled Like Father.
According to The Hollywood Reporter, the upcoming comedy centers around Bell, a workaholic who's getting married. When her groom never goes through with the ceremony, she decides to take her honeymoon trip anyway, and reunites with her estranged father.
Luckily, Bell's actual wedding was nothing like her character's. The actress married Dax Shepard in 2013, and funnily enough, she didn't wear a wedding dress at all. The couple exchanged vows in a low-budget ceremony, and Bell dressed up in an all-black outfit. "We got married in a tiny room in the Beverly Hills courthouse," she previously shared, "and it was still one of the best days of my life." She now shares two children with Shepard, daughters Delta and Lincoln. The couple will celebrate their four-year anniversary in October.