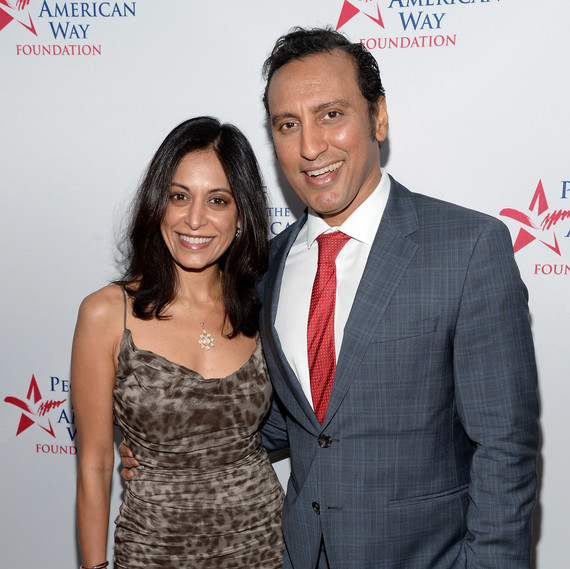 The Daily Show's Aasif Mandvi is married! The actor and Shaifali Puri tied the knot in a multicultural celebration at Atlanta's Fox Theatre on Sunday. People reports that 220 guests were in attendance. "I'm so honored they all showed up," the comedian said of his many attendees. "After this many years, I think most people had given up on me ever tying the knot," he joked.
The wedding was interfaith, embracing both of the newlywed's backgrounds. "We included elements of our Indian Hindu and Muslim cultures in every single aspect of our wedding," Mandvi shared. "From the ceremony, to the food, to the music, to the clothes." Antia Dongre designed the couple's wedding clothes, while Mandvi switched into Sebastien Grey for their reception.
Mandvi and Puri met in 2013, and got engaged in 2016 while staying at California's Post Ranch Inn. Apparently, though, Mandvi's proposal plan was almost a bust! "I wanted to propose while looking out at the water, but for three days it was misty and I kept waiting for the clouds to part and the ocean to come into view from the cliffs," he explained. "While we waited, we hiked through redwood forests and stumbled upon an old, towering redwood tree, where, inexplicably, someone had carved the letters 'A' and 'S' into the trunk of the tree right next to each other," he added. "Like some sort of ancient forest blessing!" Then, on the last day of their trip, the stars really aligned. "There were still clouds, and I thought I would have to give up hope of proposing with a view of the ocean, but the clouds magically parted for 15 minutes," Mandvi revealed. "I got down on one knee, half underwater, and asked her to marry me."
Mandvi currently stars on Younger, while Puri is the CEO of the organization Uplift. "I could say that what I love about Shaifali is her passion, her intelligence, her beauty, and that would all be true, but what I love about the two of us together is how we continually push each other to become better partners and better people," Mandvi shared. "She makes me a better version of me, and I hope I do the same for her, and I hope we never stop doing that and being that for each other."