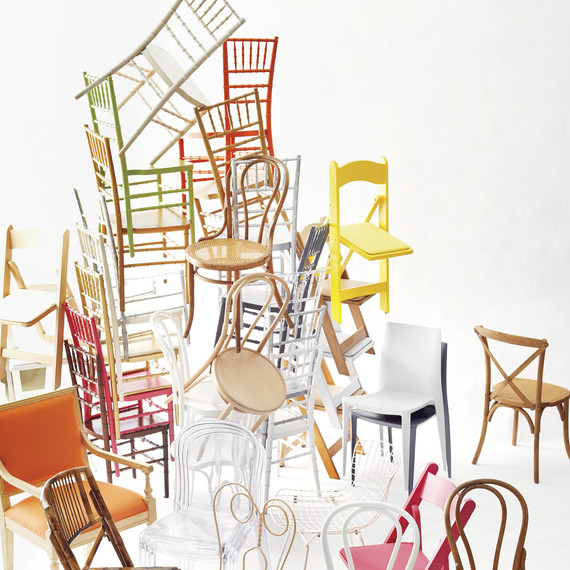 If you need to rent chairs for your ceremony and/or reception, you've got myriad choices. Whether you want to go with wood or acrylic, cushioned or bare, or brightly colored or neutral, you can easily find chairs that complement your theme or venue and work within your budget. Here, six wedding favorites and what you need to know about each.
Chiavari
By far the most popular event chair, the Chiavari adds elegance to a formal setting. The chairs, with their bamboo-style backs and legs, are available in natural wood, mahogany, metallic (gold, silver), white, and black with matching cushions; some rental companies also offer chairs painted in pastels and bold colors—even orange! They typically cost $5.50 to $9 per chair.
Crossback
This charming wood chair, also referred to as a vineyard chair and a favorite for outdoor and farm weddings, has a rustic design modeled after the chairs often found in European cafés. You can generally find these chairs for $8 to $12 each.
Ghost
Aptly named because of the see-through material—like acrylic—that it's made from, the ghost chair by Philippe Starck won't spook anyone with its rounded back and modern design. Some rental companies carry it in smoky gray, black, and white in addition to the classic clear. Each chair will typically cost between $8 and $9.50.
Padded Folding Chair
Whether you've got a modest style or want to stay on budget, this simple chair—especially in white—brings a clean uniformity to an outdoor or indoor wedding. They're the most affordable option, generally costing between $1.50 and $3.50 per chair.
Chameleon
This stylish chair with a metallic back comes in gold and silver; some companies can customize the chairs with seat cushions in colors such as yellow, black, and pink. Plan to spend about $11 to $14 per chair for this style.
Bentwood
If you're looking for traditional wood seating, this is it. Perfect for a reception with its slim construction that fits well at a table, the classic Bentwood Hairpin chair has a comfortable round back and seat and a popularity that dates back over 150 years! You should expect to pay anywhere from $8 to $11 for each of these rentals.