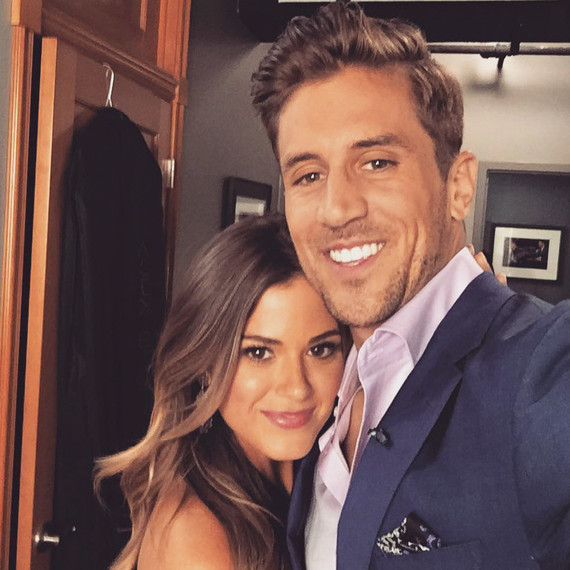 Former Bachelorette JoJo Fletcher and fiancé Jordan Rodgers are still head over heels in love. Although the couple is in no rush to make their wedding plans official, there is one way the bride to be is mentally preparing for the big day: thinking about her dream wedding dress.
It's true! Even though the couple has no definite date or celebration in mind (more on that later), the Bachelorette star can't quite keep the wedding fever at bay. And her primary outlet? A little bit of wedding dress shopping. "It's still something that I'm excited about, and I like to think about what that day would be like," Fletcher says of her celebration, according to People.
But although she had gowns on the brain, she did add that she has "no clue" what her day-of style will actually be. "I feel like it changes every other day," Fletcher shared. "First it's the mermaid, then it's a really simple one, then it's the ball gown. I have no idea what it's gonna end up being, but I'm hoping that it's true what everyone says that as soon as you put it on, then you'll know. I hope it's that easy."
Fletcher also backed up her fiancé's recent comments about the details of their big day and the timing of the celebration. "We have not set a wedding date," she explained. "It's still obviously something that we are going to do, and we are still committed in that way, but we're just enjoying this time together…I'm enjoying being a fiancée and letting him court me, and when the timing is right then we'll do it." In the meantime, we'll be over here waiting for a peek at the reality star's next favorite wedding dress!