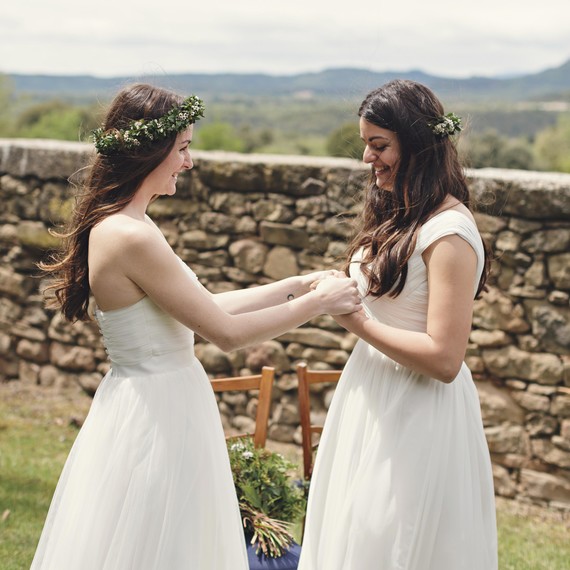 When you finally reach the point in your wedding planning process where you're ready to write your vows, you know you're close to the finish line. In fact, many couples say that the task of penning their own vows is what finally makes the wedding start to feel like a real thing. It's a huge moment, but before you stress about what you'll say on this momentous occasion, you should know that vows are only meant to take up a minute or less per person, so there's no need to get carried away writing a novel of promises to your partner.
For same-sex couples, finding inspiration can be even harder, especially if they're looking for phrasing, reading, or quotes without gender references. To help you start writing your own vows, heed our two best pieces of advice: Make it personal and be yourself. Need more guidance? Here are a few additional tips to get you started.
Get inspired.
Some couples opt to incorporate quotes into their vows, while others turn to the great romantics to gather inspiration for their own wording. Poets Paolo Coelho and Walt Whitman both wrote extensively on love and have been quoted in wedding ceremonies around the world. Likewise, your favorite songs, movies, and plays are good to revisit in your quest for vow wording. You might also return to books from your childhood. Shel Silverstein speaks of love in such a simplistic way that it's neither based on gender or sexual orientation, but on making the most basic phrasing out of the most complicated emotion.
Plan it out together.
Have a chat with both your officiant and your partner about writing your vows. Do you want to write them? Do you want to do so together or separate? Do you want to make the same promises to one another? Being candid about the emotions, the structure, and the length of your vows ensures you'll both be more comfortable when it comes to sharing them publicly.
Finish your vows early.
Finishing your vows a month out should be the goal. You can always go back in and edit them as you see fit, but you don't want to be doing so the day, or even the week, of your wedding.
Be yourselves.
Be authentic and true to your relationship. If you're someone who has literally never opened a poetry book, skip it. If you operate better with some humor thrown into an emotional moment, add something that'll make you both laugh. If you know your partner is going to be a hot mess of tears and emotions, maybe ease up on the drama. Just be you and know that the words you put together for your vows will be cherished by your partner no matter how silly, sappy, or dramatic they may seem to everyone else.