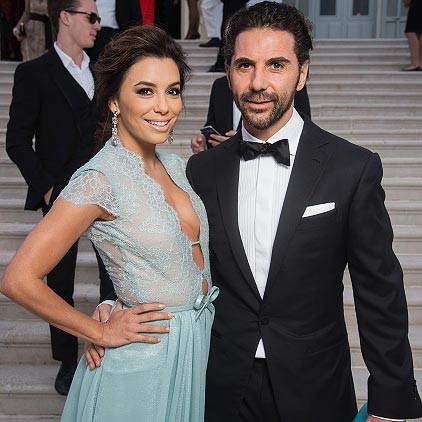 It's hard to believe that it's been almost a year since Eva Longoria and José Bastón tied the knot. The former Desperate Housewives actress and the president of the Latin American media company, Televisa, met through a mutual friend in 2013, according to People. While they didn't hit it off during their first encounter, they did have "immediate chemistry" when they saw each other again six months later. And then in December 2015, the couple got engaged while on vacation in Dubai. Is that a romantic whirlwind or what?
To make things official, the couple hosted the perfect weekend weddng in Alcapulco, Mexico, just last year where they partied with their closest friends and family in a ceremony right by the water. And even though it's almost been about 365 days since they exchanged vows, Longoria reveals the just-married feeling is still there. "We're always like newlyweds," she told Entertainment Tonight. "Some days we feel like we've been married for 40 years and other days we feel like we've been married for two seconds—just depends on the day!"
And of course, with their major milestone coming up, anniversary plans are well in the works. "I'm going to be working in Cannes with L'Oreal," Longoria told the outlet. "It's my twelfth year with L'Oréal, so I'll be there and he's coming and we're going to make it a long week." It sounds like it's going to be a romantic celebration abroad. As for how the two keep their relationship strong? "We're priorities for each other, so it's pretty easy," Longoria said. With both of them having busy schedules, finding quality time for one another is definitely important. We can learn a lot about love from these two, and we're excited to hear how their overseas wedding anniversary goes!