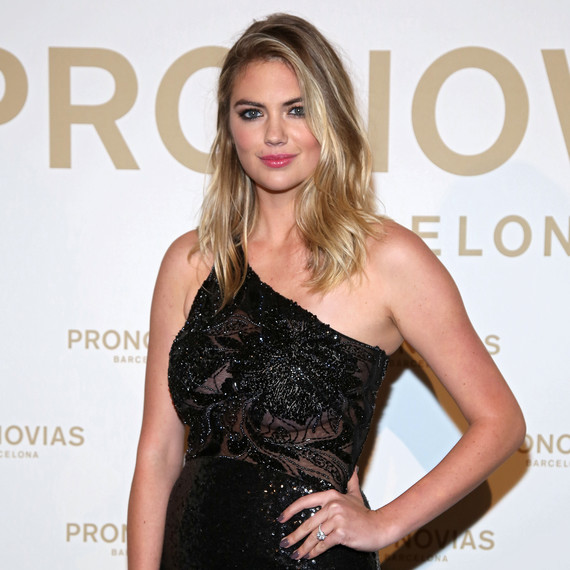 Kate Upton and Justin Verlander made news of their engagement public just over a year ago when the bride-to-be debuted her incredible engagement ring on the 2016 Met Gala's red carpet. Since then, the model-turned-actress and her Detroit Tigers pitcher fiancé have kept their wedding plans relatively secret, but now they're finally ready to share details of their big day—at least, those they've figured out so far! Our Editor-in-Chief, Amy Conway, caught up with Upton at the Pronovias Spring 2018 show in Barcelona and talked wedding planning.
Upton and Verlander want a medium-sized affair, with around 150 people in attendance. That size celebration will be easy for celebrity wedding planner Lisa Vorce (you'll remember her work from Chrissy Teigen and John Legend's Italian nuptials) to pull off. 
Flowers will play a starring role. "I have favorites," she says, "but I don't know what I'll have for the wedding day yet. I just know I want a lot of flowers. And I know I want the petals already down by the time my niece, who will be my flower girl, walks down the aisle." The bride-to-be may love the idea of flowers everywhere, but she knows her fiancé may have a decidedly different take on that decorative element. "Justin has terrible allergies! He'll have to take an allergy pill," she laughs. 
She may not have her wedding dress picked out, but that doesn't mean Upton has never tried one on. In fact, her first ever magazine cover was for Cosmopolitan Bride. "I was 17," she says. "It was so much fun. It was like playing dress up."