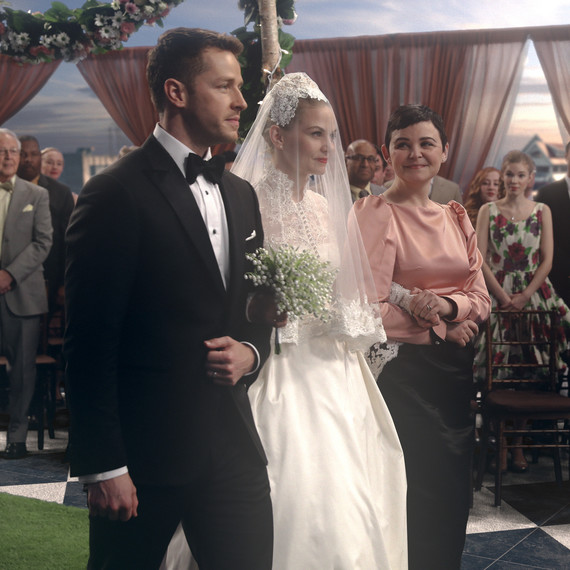 Once Upon a Time masterfully melds the modern and the mythical, and for the upcoming musical episode, all eyes are on Emma and Hook's wedding. Will the nuptials be as magical as the show? Will Emma's dress be fit for a fairytale? Newly released details give some insight into the celebration.
From the looks of this released photo, Emma's dress will meet everyone's expectations. The lacy long-sleeved number is both elegant and charming, as is the bride's ornate and head-hugging veil. The princess-esque gown also features a high collar, leaving many to point out its Grace-Kelly vibes. And is that a lily of the valley bouquet we see? It certainly looks as if Emma is channeling Duchess Kate.
Wedding fashion and accessories aside, fans have something else to consider. With the Final Battle impending, drama may be imminent during the celebration. Entertainment Weekly spoke with executive producers Edward Kitsis and Adam Horowitz, who both hinted that something unexpected may occur. "She either dies, or she doesn't die, or something else happens," Horowitz said of Emma, but "the Final Battle is probably not what you think it is," Kitsis added. Regardless, Emma's set to embrace her wedding head-on. "Emma knows the Final Battle is in front of her, but she, in this moment, brave and is not going to let the troubles of whatever they're dealing with get in the way of her happiness," Kitsis assured.
The wedding also mark's the season's musical episode, which Emma actress Jennifer Morrision thinks adds to the appeal. "I thought it was perfect," she told Entertainment Tonight. "We just felt, like, what better way to make it feel extra special than to have [the wedding] also be the musical episode?" One thing's for sure: We'll be tuning into the big day. Between the musical acts, wedding gown, and uncertain plotline, this wedding's set to be one for the storybooks.