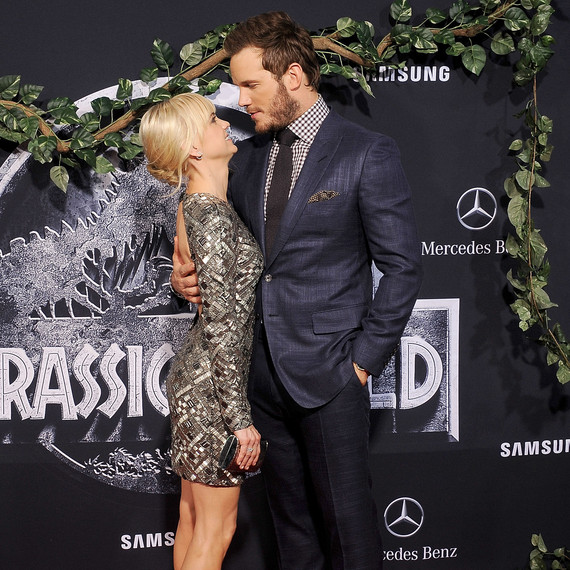 Anna Faris and Chris Pratt have been busy walking red carpets to promote Pratt's new film, Guardians of the Galaxy Vol. 2, and they've been nothing but adorable along the way. Just last week, Pratt was dropping Insta-compliments about wife, thanking her for her support and talking about how beautiful she is. But now the tables have turned, and this time Faris is the one sharing all the love!
"I'm in awe," Faris said of her husband at the film's Hollywood premiere, according to ET. "On the way here I was so much more nervous than Chris was…I felt like I've always known he's a brilliant actor. And now I feel like the rest of the world is getting to see that. I'm so thrilled about this movie." There this couple goes, making us adore them even more. Pratt reprises his role from Guardians of the Galaxy in this new film, and the couple stopped on the red carpet to talk about how excited they were to be making movies their son can watch. "He's a huge movie fan and a Marvel fan and he gets it," Pratt said of 4-year-old Jack. "He loves the story. You know, we're just mom and dad at home but on TV, we get to be heroes."
Now it's getting real. Chris may be annoyed. 403pm pic.twitter.com/67qMmlTdCO

— Anna Faris (@AnnaKFaris) April 19, 2017
But with Jack at home for the evening, the premiere itself was definitely date night for Faris and Pratt. True to form, Faris shared several tongue-in-cheek tweets of their preparation for the night out, including a shot of her makeup prep process and a shirtless Pratt decked out in eye masks and shaving cream. "Now it's getting real," she captioned the photo. "Chris may be annoyed." Instead, it turns out Pratt (being the ridiculously cute husband that he is) finds her candid pictures "endearing" and jokingly suggested his wife has a future in photojournalism.
Just one more case of Pratt and Faris walking the line between sweet and humorous flawlessly. We're starting to think we should take notes!