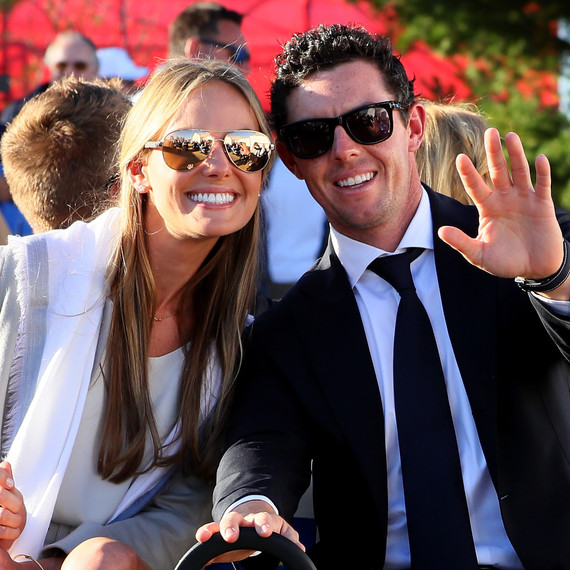 With the Masters just wrapping up, Rory McIlroy has time to prep for something else—the pro golfer is getting married, and it's set to be "the wedding of the decade." The Belfast Telegraph just confirmed that the wedding will take place this Saturday, April 22. As for the venue, all signs point to Ashford Castle, a fairytale-worthy estate in Ireland. McIlroy and fiancée Erica Stoll have spent multiple New Year's Eves there together, and when the Belfast Telegraph called the location, it was completely booked for the weekend.
At the end of the Masters, the Northern Ireland-native told reporters: "It's a great time in my life." "It would have been nice to walk down the aisle in a green jacket," he added, referencing the competition's prize. (Sergio Garcia, who was the tournament winner, has hinted at similar sentiments.) Giving further evidence of a very-soon celebration, he noted "I'll come back at the Players refreshed and a married man."
The wedding is set to be a huge affair, with plenty of A-list RSVPs, reports The Irish Sun. The Belfast Telegraph thinks One Direction's Niall Horan will be there, as will some of the world's most famous golfers. Coldplay will also be performing at the reception, again according to The Irish Sun.
Stoll, who worked for the PGA of America, famously aided McIlroy during a 2012 Ryder Cup mishap. The pair got engaged in December 2015 and were friends before they dated. Golf Digest reports that McIlroy told interviewers that the two plan to share a 10-day honeymoon post-wedding. The trip will take place "in the middle of nowhere," he said, leaving us dying for more details.