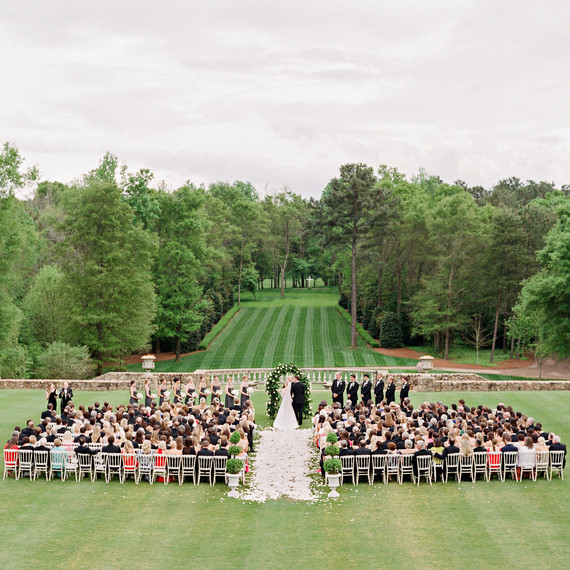 From tearful vows and heart-warming surprises to adorable flower girls and first dances that captivate the whole room, wedding planners have seen it all (and likely many, many times). But even after planning and attending countless events, there are still moments that even the most seasoned planners can't forget. Here, three pros share the wedding memories that have made them happiest over the years.
Witnessing a father's love
Jill Perez's favorite wedding moment happened during one of the most-anticipated parts of the day: When everyone is waiting for the church doors to open so that the bride and her father can walk down the aisle. "Oftentimes, the minutes leading up to the bride's walk down the aisle can be nerve wracking. We're reviewing last-minute cues or fussing over details," Perez says. This time, the bride and her father took those moments to share their contentment and love for another, and it warmed her heart. "They held hands facing each other and whispered words of affirmation." After laughs, smiles and happy tears, the doors opened and the father-daughter duo "lit up the room with their contagious smiles. The entire church was captivated, and I was reminded in a big way that moments like these are what a wedding day is all about."
Celebrating the unexpected
Wedding planner Lauren Hibbard says watching her fun-loving couple Lindsey and Matt was like something out of a movie. The groom spent months secretly coordinating with Lindsey's uncle on a heart-wearing acoustic performance for the reception. But after giving it some more thought, Matt decided he wanted to surprise Lindsey by strumming the special tune himself. "He had never played a musical instrument in his life, yet studied and learned to play (and sing) the family's favorite, signature song, 'American Pie,'" Hibbard recalls. When the time was right, "The groom stepped up and surprised his bride and all of their guests! The music started and the whole room erupted in song."
An animal-themed affair
Another planner's bride had loved penguins since she was a little girl, so her mother had the brilliant idea to surprise her with live penguins during cocktail hour. The planner and the mother-of-the-bride schemed together to bring penguins to the celebration. "We staged them in the back of the venue, and her dad made an announcement that some 'special vendors' were arriving," the planner says. The penguins were then sent through the entrance door and the bride screamed "YES!" in excitement. "It created a moment of pure joy for the bride, that then trickled down to all of the guests and even vendors!" the planner recalls.