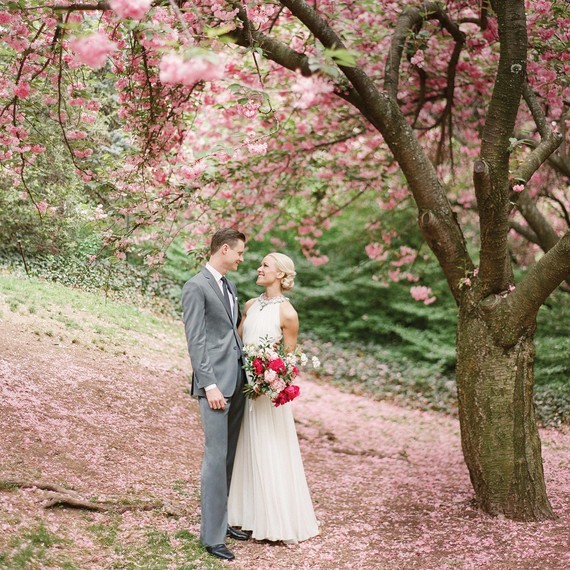 Spring weddings are known for being abundant in flora, sunshine, and the buzz of all things sprouting and growing. Whether you're hosting a wedding indoors or out, there are plenty of ways to incorporate the joyful and bright elements of spring into your big celebration. From embracing vibrant or pastel colors, building a menu around the freshness of the season, and finding fun ways to get outdoors, we've got lots of budding ideas for you to consider.
Bring in the hues
Spring's best color palettes are refreshing and bright, with bold hues breathing just as much life into your wedding inspiration as pretty pastels. While attire may be the first to come to mind, with bridesmaids donning rosy pinks and groomsmen in deep blue suits, don't forget to incorporate some pops of color into the wedding décor, too. Sassy table linens might take on shades of green and nude, and boldly colored florals and pastel taper candles can add an unexpected color combo that evokes that feeling of lush, springtime beauty.
Accentuate the food and bar
Another great way to keep your wedding feeling spring-like is to focus the meal around local and seasonal produce. Have a chat with your catering team about bringing in fresh salads with peaches and grains, heirloom tomato and corn salsa with the catch of the day, or roasted chicken with grilled artichokes. And don't forget to bring that seasonality into the bar menu, too. Toss some edible flowers in the specialty cocktails or work with your bartender to develop a smashed cherry cordial or berry infused mocktail. Keep it light and utilize the season's best produce to embrace the bounty of spring.
Go for the floral accents
There's no reason to fear floral décor. While you'll likely have floral centerpieces and fresh flowers throughout your wedding, you might also consider bringing in some graphic floral elements. Bridesmaids' dresses could feature some embroidered floral accents, your wedding shoes might have some floral appliques, or you might pop a few floral accent pillows in the lounge area. You could even get florally inspired with the wedding favors or welcome bags. Bottles of sparkling rosé wrapped in a floral gift paper, rosebud infused teas, and flower seed packets can be great nods to springtime.
Create a spring-inspired ceremony ritual
Wedding ceremony rituals vary all over the world, but it's never too late to start a new tradition. A lovely way to incorporate the feel of the season is to pass around a tree sapling during the ceremony for all your guests to bless. Later, the two of you can plant it later in a special spot that you'll be able to visit for years to come. Readings can also be great reminders of the season's abundance, and a passage from Walt Whitman's Leaves of Grass or Pablo Neruda's Sonnet XVII could fit the bill. Don't forget to have guests toss flowers at the end of the ceremony too!
Use the outdoors
Using spring to your advantage by getting guests outdoors during your wedding weekend is the best way to embrace the season. If you're having a destination wedding, consider coordinating spring-centric activities like kayaking or fly fishing, strawberry picking, or setting up a trip to the botanical gardens. If your wedding will be taking place outdoors, be sure to focus the flow of the event around the best views so guests can enjoy the natural beauty this plentiful season offers up.