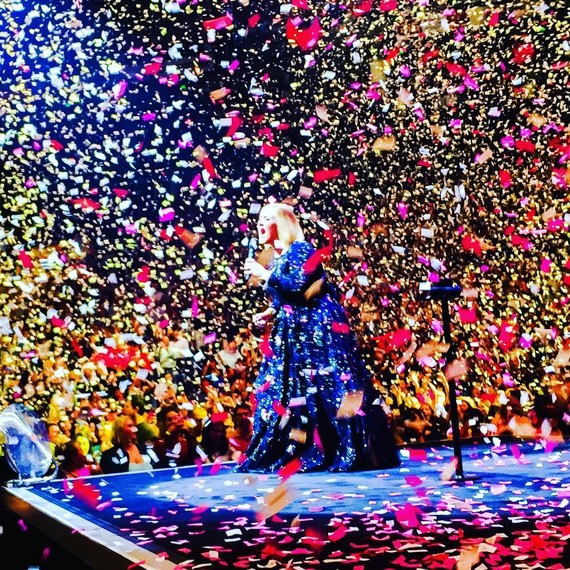 Now that's the "Sweetest Devotion"! Adele's partner, Simon Konecki, just celebrated the couple's fifth anniverary in the sweetest way. At the end of every show on Adele's tour, white confetti explodes from the ceiling and falls all over her fans. The confetti features lyrics from Adele's songs, which in itself is a good enough reason to scoop some up and keep forever. But at Adele's Nashville concert this past Sunday, fans got something even more special.
To honor the couple's relationship milestone, Konecki replaced all of the confetti with pink handwritten love notes. Some of the messages said, "Happy Anniversary," while others read, "You are an angel," "I love you," and "Love you long time."
The Sweetest Celebrity Anniversary Messages Ever
Adele's boyfriend celebrated their fifth year anniversary by replacing Adele's regular white confetti to love notes he wrote pic.twitter.com/7gtaKcjvwp

— FREDDY (@FreddyAmazin) October 18, 2016
Though Adele didn't seem to realize the replacement (in a video shared on Twitter, the singer can be heard saying, "We got pink confetti tonight ... This confetti is normally white!"), Adele's fans took to social media to share their finds and swoon over their relationship.
"we got pink confetti tonight.. this confetti is normally white" i'm crying pic.twitter.com/XQpGobgd8H

— bree van de kamp (@dayrdreamer) October 17, 2016
The two have been dating since 2011 and share a 3-year-old son, Angelo. At the concert, Adele was hinting to her fans that she's ready to have another child. "My son is about to turn 4 very, very soon," said Adele, The Mirror reports. "I'm starting to get very emotional about it because I feel like once they turn 4, they're not really your actual baby anymore. So my womb is starting to ache a little bit. It's like 'Baby, baby, baby. Need a baby, need a baby.' I'm not pregnant. I won't get pregnant until the end of the tour."
Adele's tour ends next month, so here's hoping Konecki and Adele can turn their focus to their family.
Related: Adele's Happiest Love Songs