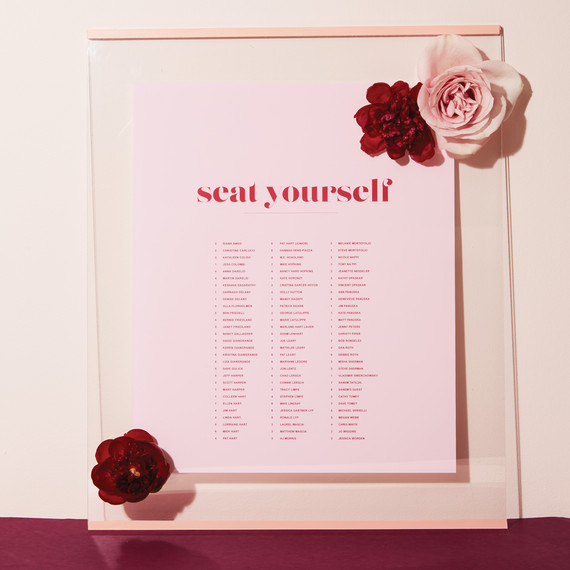 A simple seating chart gets a modern makeover by pressing it between two pieces of acrylic. Incorporate your wedding's color palette by adding flowers found in other arrangements on your wedding day. You can use live blooms, or choose artificial flowers for a fresh look that lasts. As a bonus, the finished product is easy to prop up on any table and, after the wedding you can repurpose your project as a frame for your favorite wedding photo.
THE TOOLS
Faux Wedding Flower Ideas That Are Actually Chic
HOW TO
Download our customizable seating chart template and input your guests' names and table assignments.
Take the file to your local print shop and have them create the chart.
Get the acrylic sheet and the metal trim cut to size at your local hardware store.
Press seating chart between two pieces of acrylic. Hold together with metal trim.
Use adhesive dots to attach fresh or faux flowers.
THE DETAILS
Acrylic sheet, 1/8", from $99, homedepot.com.
U-shaped metal trim, $8.23 for 3 feet, mcmaster.com.
Dot Shot Pro Super High Tack/Low Profile adhesive dots, $18, uline.com.
Creating a wedding seating chart is a serious undertaking. We know you've got questions, and luckily for you, we have the answers. We've compiled the best tips and tricks into one easy guide. Here's how to make a wedding seating chart without stressing out.
There are tons of pros to using artificial flowers for your wedding. For one thing, they're more affordable than real flowers. You also don't have to worry about them drooping or losing petals. Plus, all faux flowers are available no matter what the season. Check out these chic ideas for how to incorporate artificial flowers into every aspect of your big day.
DIY Wedding Projects To Make For Your Wedding