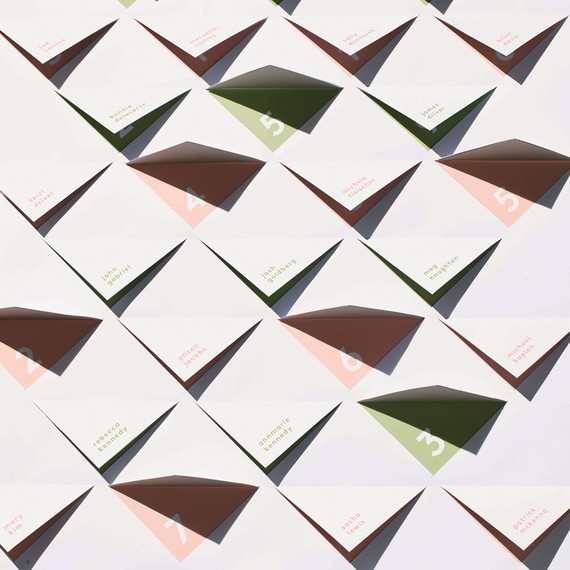 The simplest ideas can be the most clever—like this lift-and-look seating chart, made by layering a sheet of heavyweight paper printed with guests' names atop another printed with table numbers. Have a local print shop create both in your wedding colors, then use a craft knife to cut corner flaps before gluing the two together. Continue the visual theme at your guests' tables with place cards in the same shape as the fold (an isosceles right triangle, to be exact). When the big day arrives, your friends and family will fold back the flaps to reveal their seating assignments.
How to Make a Wedding Seating Chart Without Stressing Out
HOW TO
Input the names of your guests on the front page, and your table numbers on the back page.
Take the file to your local print shop and have them create the two sheets in your wedding colors.
Use a craft knife to cut corner flaps.
Adhere the sheets together to create the layered chart.
Figuring out how to seat your wedding guests can be surprisingly tricky. It's an intricate art, and we want to make the entire process as easy on you as possible. That's why we've compiled our most tried and true tips for successfully seating your wedding guests. Consider it our gift to you.
Besides a seating chart, you'll also want to have place cards for each of your guests. If you're searching for inspiration in this area as well, here are seven unique place card concepts. We've got innovative ideas to match every couple's style.