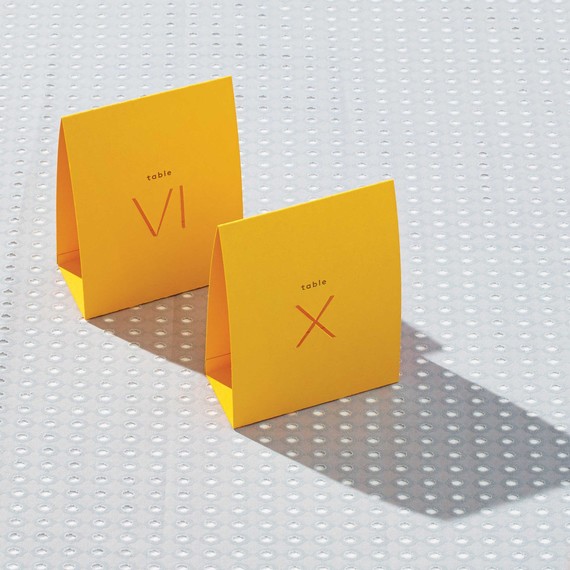 Roman numerals may feel Old World, but this table number DIY gives them a modern makeover. Simply cut the numbers from brightly colored paper, and voila—instant update. We chose a sunny hue for our DIY, but any bright color will make your reception tables pop. Sure, Rome wasn't built in a day, but these cutout table numbers will come to life in no time at all.
DIY Table Numbers You Can Count on to Be Easy and Chic
THE TOOLS
Brightly colored 8½ x 11 inch paper
A pair of scissors
Double-sided tape
Craft knife
HOW TO
Download our table card template. 
Print the cards on your choice of paper.
Use scissors to cut the paper in half lengthwise, separating each Roman numeral.
Cutout the Roman numerals on each card using a craft knife.
Fold the cards into tent shapes.
Secure with double-sided tape.
If you love this table number DIY, we suggest that you take a look at a similar project. These DIY fabric cutout table cards are elegant yet inexpensive. They use standard numbers instead of Roman numerals, and fabric in addition to paper.
Want something a bit more classic for your table cards? We've rounded up some of our favorites to inspire you.
DIY Wedding Projects That Are Easier Than You Think