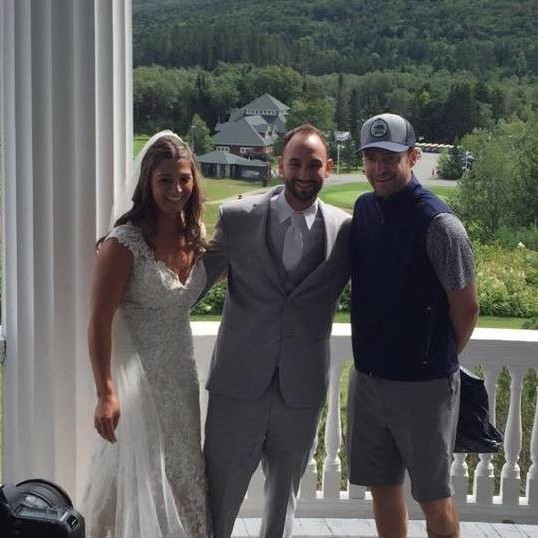 The first look is an emotionally charged moment, but you pretty much know what to expect: to see your soon-to-be spouse for the first time on the wedding day. You probably don't expect to also see a pop star—but that's exactly what happened to this bride and groom, Chelsey Gaudet and Ryan Parks. During their photographed first look before their wedding at Mount Washington Hotel in New Hampshire, Justin Timberlake showed up.
 
Priceless Grooms' Reactions to Seeing Their Brides for the First Time
"So we were taking the first look photo and all of a sudden Justin Timberlake appears out of nowhere, shakes my husband's hand, and congratulates us and takes a photo," Gaudet told ET. "We thought it was awesome of him to do that, but had no idea it would go viral."
It turns out, the father of the bride was behind the whole thing. He spotted JT eating lunch nearby and asked for a favor, aka the best wedding gift ever. Timberlake played along, arriving in shorts, a t-shirt, and a baseball cap and posing happily with the couple for a photo, which the bride shared on Facebook. What a good sport!
24 Times Fathers Melted Our Hearts at Weddings