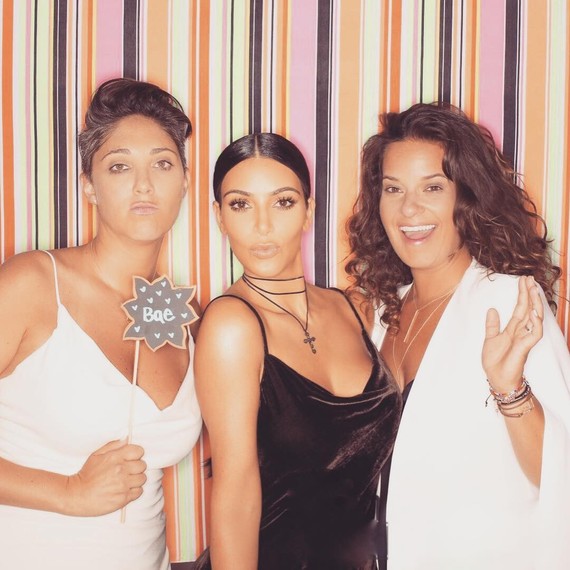 We already know Kim Kardashian likes to get creative when it comes to wedding guest attire, and her friends Erin Paxton and Stacy Paris's wedding this weekend was no exception. With help from her glam squad, Kim was a seriously well-dressed wedding guest for the outdoor California affair in a floor-length vintage, velvet Donna Karan dress—tight and black of course—with a low back.
A Never-Before-Seen Photo of Kim Kardashian's (Other) Wedding Dress!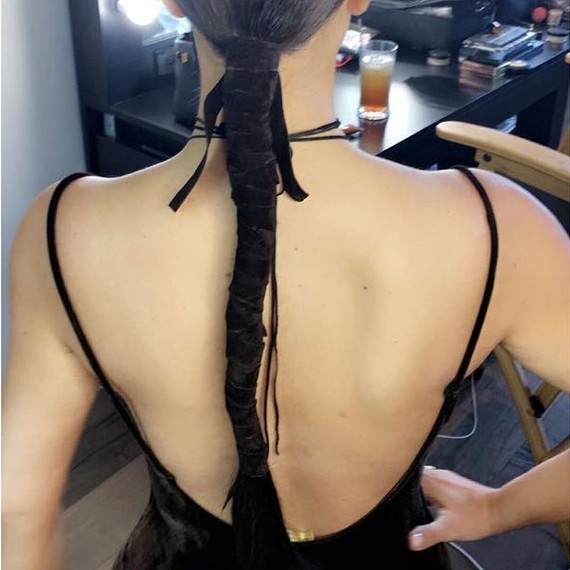 The reality star-turned-businesswoman posted a series of Snapchat videos that showed off her look, which she completed with a statement cross necklace, plus a long twisted ponytail and her signature smoky eyes and nude lips.
But Kim's style wasn't the only peek she revealed from the big day. She posted a video of the ceremony location just before the wedding started, with the bridal party making their way down the aisle to 2Pac's "California." Following the backyard celebration, Kim explained how she knew the brides in an Instagram caption: "Erin aka Paxy has been doing audio on KUWTK from the beginning & ok she might be one of my faves lol So happy to be at her wedding celebrating with her last night!"
Kim also posted a video of the brides, one clad in black and the other in white, taking a selfie with the rabbi officiating the ceremony before they said their I do's.
Finally, Kim shared a short but sweet video of the wedding party dancing the hora and the two brides being raised up in their chairs, a traditional part of the dance the honored guests take part in. 
Jewish Wedding Traditions for Your Big Day