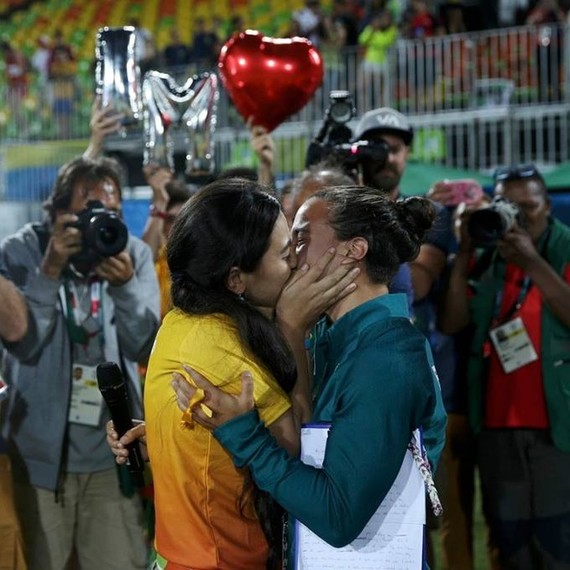 With the high stakes and once-in-a-lifetime opportunities, the Olympics often seem like the end—rather than the start—of something. But Rio Olympics venue manager Marjorie Enya wanted to challenge that notion, so she did so in the best way.
After the final women's rugby gold medal match between Australia and New Zealand last night, Enya took a major chance and walked onto the rugby pitch, grabbing a mic and her girlfriend of two years, Brazilian rugby Olympian Isadora Cerullo, along the way. 
7 Real Proposal Stories We Love
MY HEART!!! Volunteer Marjorie Enya kisses rugby player Isadora Cerullo after proposing #LoveIsLove pic.twitter.com/zVa9FqPSX8

— Danielle Warby (@DanielleWarby) August 9, 2016
Under the eyes of the remaining crowd, she proposed to Cerullo in an adorable speech. Cerullo burst into tears and—wait for it—said yes! The crowd, of course, went wild.
The gold-worthy proposal has since been viewed by millions online, but Enya swears she wasn't nervous. "She is the love of my life," she shared with BBC. "As soon as I knew she was in the squad I thought, 'I have to make this special.'"
Proposal Videos That Will Make You Sob at Your Desk