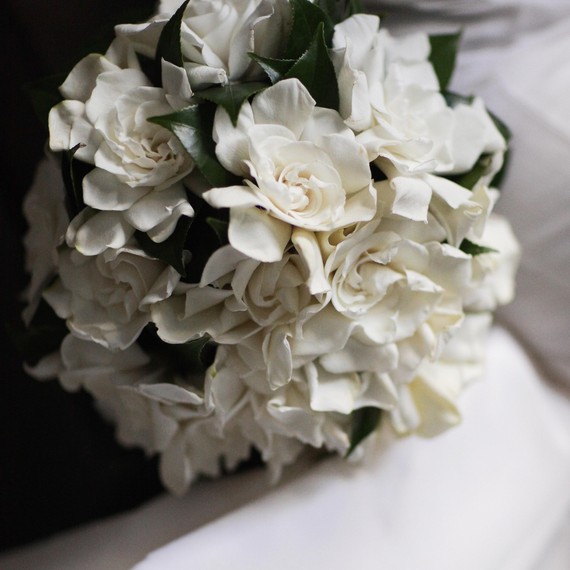 THE TOOLS
33 gardenia blossoms (they'll come with artificial leaf backing)
Cotton balls
A glass of water
#24 gauge floral wire
Dark green floral tape
Scissors
1 bunch of fresh gardenia foliage
1 bunch of variegated Algerian Ivy
#20 gauge floral wire
White satin ribbon
 
Wedding Flowers and Bouquet Ideas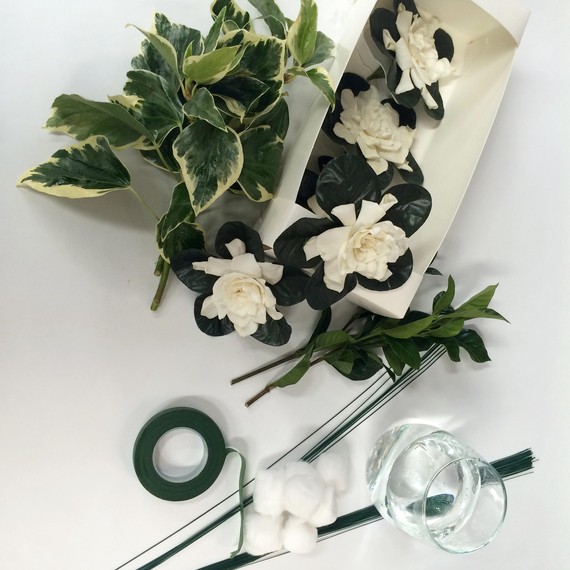 HOW-TO
1. Wrap the bottom of the gardenia stem with a bit of wet cotton. Puncture the stem beneath the artificial leaf backing on the fresh gardenias with a piece of #24 gauge floral wire, push halfway through and bend to hold cotton in place, then wrap the stem and wire with floral tape.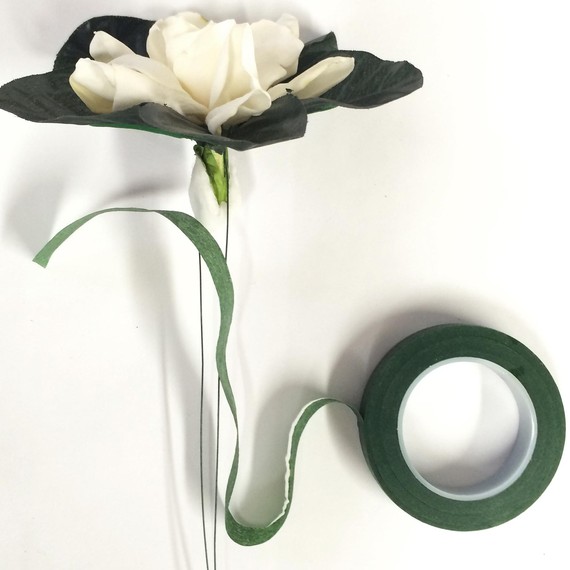 2. Wire and tape all the gardenias with the wet cotton.
Tip: If you dip your hands in water and keep them slightly wet while you're working with the gardenias, the flowers are less likely to bruise.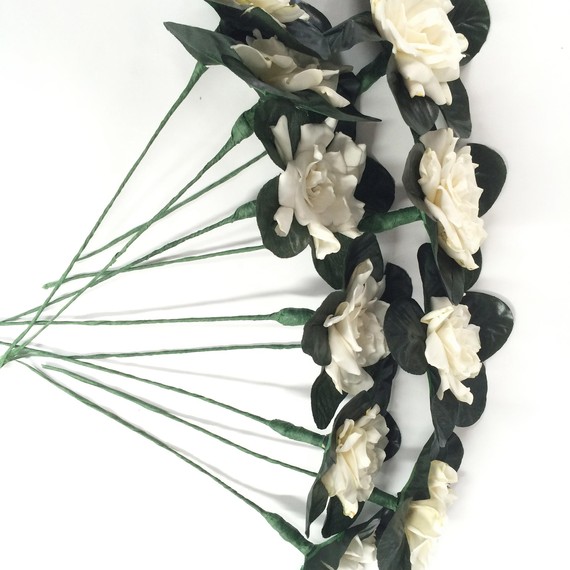 3. After all the gardenias are wired carefully, fold back the artificial leaves and cut them off with scissors, leaving the plastic base to supports the petals (leaving the artificial leaves attached while you're wiring and taping them helps protect the flower).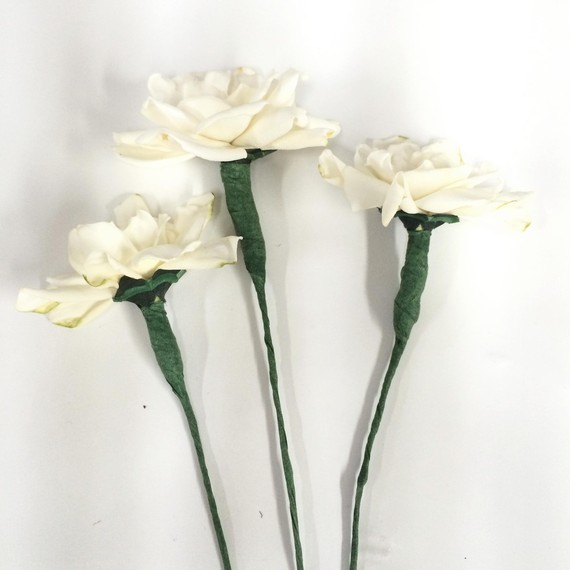 4. Snip the leaves of the gardenia and ivy foliage and attach a piece of #24 florist wire with the floral tape to create a wire "stem," continuing until you have enough foliage for at least one stem per gardenia. Then, take 2 lengths of the #20 gauge florist wire and tape them together. This is the cascading portion of the bouquet and will act as a spine to which you will begin attaching the foliage and gardenias.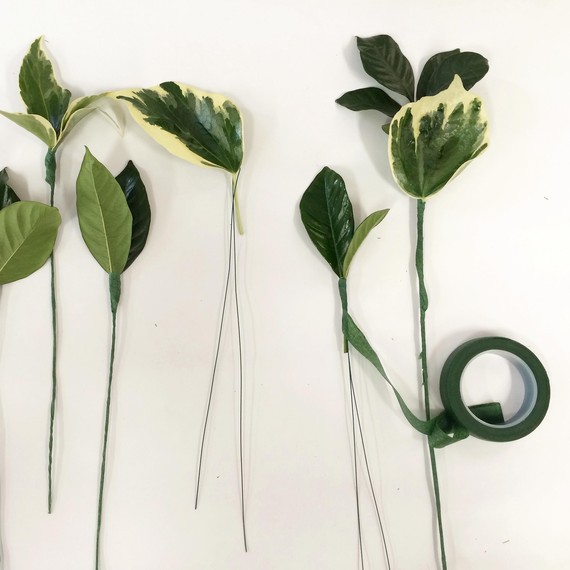 5. Begin attaching the foliage and gardenias with the floral tape, alternating as you go. Be sure to back the gardenias with foliage as you go to support and protect them.
6. Continue adding, bending the flowers and foliage to achieve the design you want.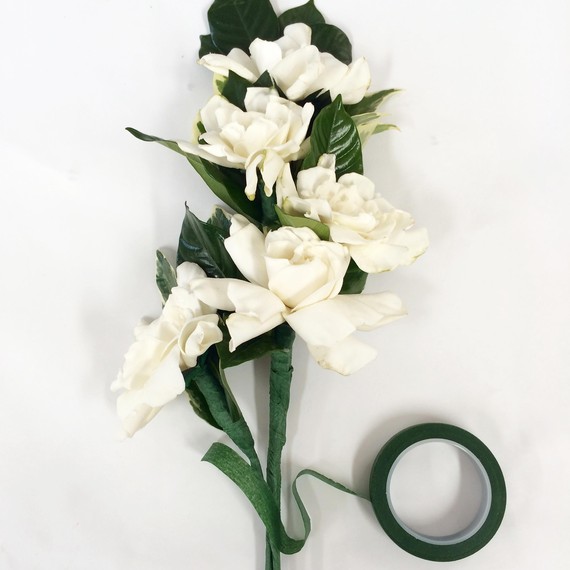 7. This is one of the benefits of everything being hand-wired. Stop when you have about a 7-inch length of a wire stem remaining. You want to securely tape everything together so you have a neat length of stem.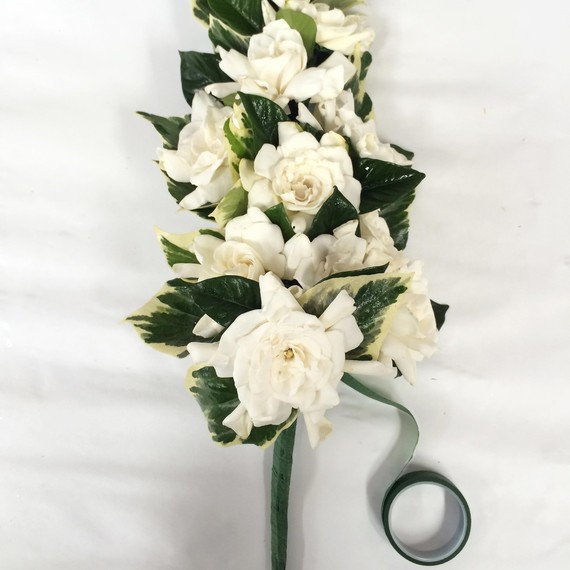 8. To make the body of the bouquet, gather the gardenias and foliage stems together, forming a nosegay. Securely wrap with floral tape as you go so that you have one central "stem."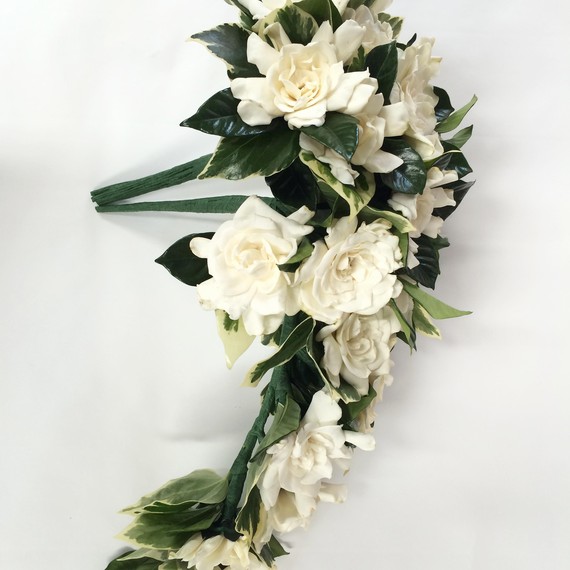 9. Gently bend the stem of the cascade portion of your bouquet and place it next to the nosegay portion of the bouquet. Secure them together with floral tape. Gently bend and adjust the flowers and foliage so it becomes one bouquet.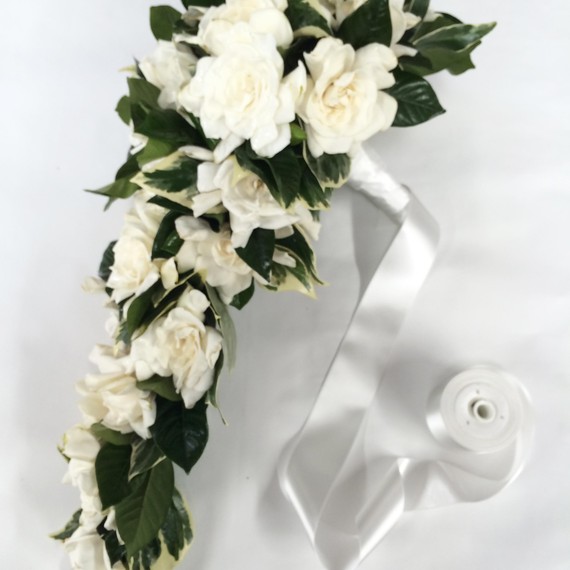 10. You will now have one central stem you can finish by wrapping with white satin ribbon.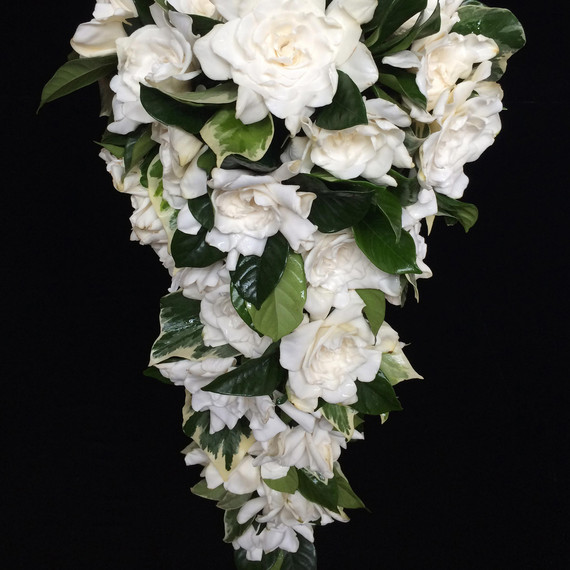 11. All of your fine, detailed work will be worth the gorgeous, timeless, and not to mention beautifully fragrant bouquet you've created. 
Note: You can make this bouquet the day before if you have a floral cooler (not a refrigerator). The wet cotton at the stem will help the flowers last. As an added precaution to keep your bouquet looking perfectly fresh, wet a paper towel, then wring it out and very gently place it over the entire bouquet in a box and cover with cellophane.
How to Prolong the Beauty of Fresh Flowers