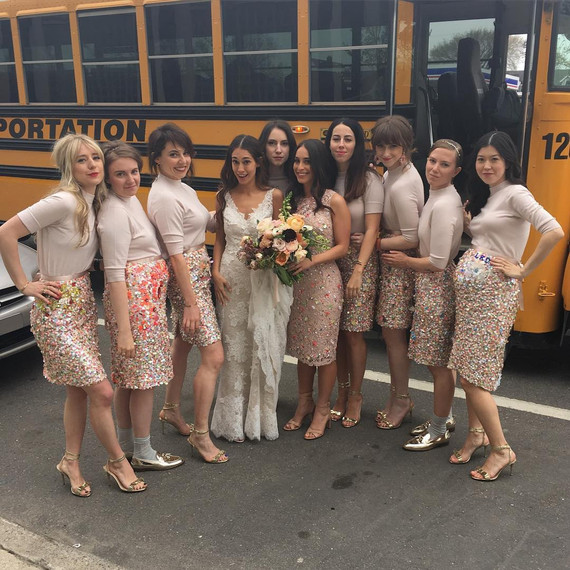 Leave it to Lena Dunham to pen a wedding toast that's both sweet and funny. At her friend, Audrey Gelman's Detroit wedding in late April, the Girls creator served as bridesmaid and, along with the rest of the attendants, wore the coolest custom J.Crew separates.
 
Why We Love the Mismatched Bridesmaids Look
But looking good by the bride's side was only one of Dunham's duties as a 'maid. She also delivered a speech at the reception that left everyone laughing. Dunham said the couple looked "more glamorous than two Holocaust history buffs have ever looked in the history of time," Vogue reported. Our favorite part? She nailed the art of acknowledging both the bride and groom, rather than just the bride, which is a common MOH speech misstep. When Dunham first met the groom, Genius.com co-founder Ilan Zechory, she noticed that he, "could meet Audrey pound for pound with every cultural reference, whether it was a moment in 1980s feminism or a Lil' Kim lyric or an obscure fact about the New York public housing system." As a bonus, she said he is "the only person on earth who looks like he could be related to both James Franco and Elie Wiesel." Naturally, she had the whole room laughing before closing on a very sweet note: "He's pretty much perfect—at least he's perfect for Audrey."
The Best Maid-of-Honor Speeches of All Time
Of course, Dunham's words weren't the only beautiful ones said that day. In his vows, Zechory stated, "Behind every great man is a great woman, bad saying! You are the great woman, an astonishing, historically great woman. I promise to always be the man behind you." And later, "I could walk around Duane Reade with Audrey, and it would be heaven."
Unique Wedding Vow Ideas