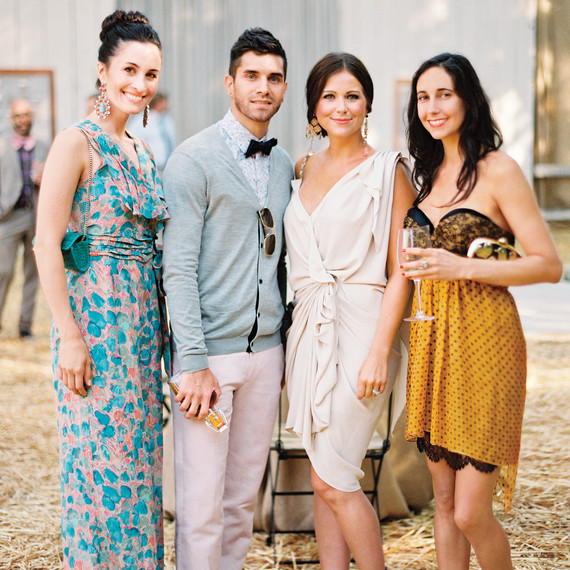 Ever attended a wedding and noticed that no one seemed to be dressed according to the attire suggestion on the invitation? It can be pretty awkward. Photos can end up looking disjointed, and some guests might feel underdressed or overdressed. Today, there are multiple ways to interpret dress codes and attire suggestions. There are subtle hints any guest can look to in determining what's most appropriate for the event, ranging from the formality of the venue, the personalities of the couple and their friends, and the geographic location, to what other guests are wearing, the wedding party's attire, and of course, the attire notation on the invitation.
To help you avoid feeling out of place, we've decoded all different types of wedding attire.
Wedding Guest Dos and Don'ts
Mystery Attire
If there's no mention of attire on the wedding invitation, there are a few key clues guests can look to when determining what to wear. Alison Rinderknecht of Alison Events Planning + Design recommends checking out the venue location and formality, the time of the reception, whether the wedding will be indoors, outdoors or both, and the weather for the area if outdoors. She says when all else fails, "check in with your friends who are going and see what they're planning to wear. Also find out what the wedding party is wearing. If the bridesmaids are in short dresses, that's a good clue that it'll be a cocktail attire wedding."
Cocktail Attire (aka Semi-Formal)
"Cocktail Attire" is a modern twist on the "Semi-Formal" moniker of yesteryear. Elizabeth Lewis of The Nouveau Romantics suggests, "if a wedding is taking place at 4 or 5 in the evening, you should wear something that easily transitions from day to night. A dark suit and tie are appropriate for men, while a cocktail dress or a long skirt and top combination work perfectly for women. Think Oscars after-party, rather than the main show! Any time an invitation doesn't specify attire, we suggest cocktail attire, as it hits the sweet spot between formal and casual."
Black Tie Optional (aka Formal)
Formal wear may also be referred to as "Black Tie Optional." "This language suggests the affair is slightly less formal than Black Tie," Lewis says. A tuxedo isn't required, but the event is still formal enough for one to be appropriate. For gentlemen who want to go a bit more casual, they can wear a white shirt with a dark suit and tie. Women are free to wear a long dress, formal separates, a formal cocktail dress, or a dressy suit."
If a wedding is listed as "Texas Black Tie," all of the above guidelines apply, but you'll want to add a bit of flair, say a bolo tie, cowboy boots, or a cowboy hat. Similarly, "Creative Black Tie" usually calls for adding a pop of personality like a playful clutch or a bold bowtie.
Black Tie
A "Black Tie" wedding typically denotes that the groom, groomsmen, and all male attendants will be wearing a tuxedo with a black bowtie, cummerbund, and freshly shined black shoes. Male guests should match that sentiment with a tuxedo or a very formal, fitted black suit and black tie.
For women, full length evening gowns are most appropriate. "Be cautious with prints and bright colors," Rinderknecht notes. "You want to look polished, but it's not appropriate to wear anything too flashy or bright, as you don't want to detract attention from the bride and her bridesmaids."
White Tie
The "White Tie" affair is the most formal tier of dress code, most likely to be executed in a stately mansion, famous museum, or even in a castle. For men, this means wearing a black tailcoat with matching trousers, a white vest, white bowtie, shirt studs, cufflinks, and black shoes. Women will be best suited in full length ball gowns. Deck yourself out for this one!
Casual
Commonly reserved for events like the rehearsal dinner or welcome party, think of casual dress as a step up from your typical weekend wear. You don't want to go overly casual with old jeans and tees, so something you're likely to wear to cocktails with friends is more appropriate. Rinderknecht clarifies that for men, "shorts, flip flops, and baseball caps are really only acceptable on the beach and even then should be nicer than your average gym wear." As for the ladies, a casual dress or a cute pair of pants and blouse should do the trick.
Festive Attire
Typically used for welcome parties or rehearsal dinners, "Festive Attire" usually refers to whatever the theme of the event is. If it's a BBQ, jeans and cowboy boots are fully encouraged. If it's a Gatsby-themed event, dressing to the nines in 1920s garb is par for the course.
Beach Chic
"Beach Chic" and "Beach Formal" are attire suggestions that nod to the setting. Think formal attire but with a beachy spin. For women, Rinderknecht suggests a pretty caftan or sundress in a muted color with leather sandals, maybe adding a floppy hat after the ceremony. For men, lighter-colored suits are appropriate.