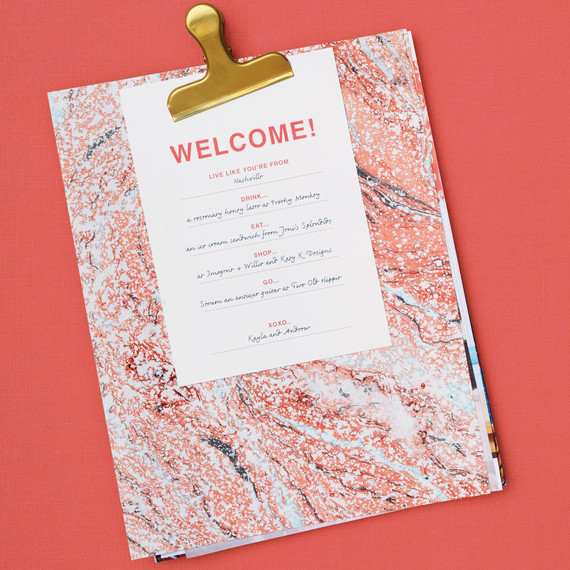 Even if you don't have the time (or budget) to fill 100 bags with local snacks or fun sunglasses, you can still introduce loved ones to your locale with something special. Whether you're getting married in your hometown or a fun destination, your out-of-town guests will appreciate a list of activities or a general guide to help them hit all of the hotspots! Add a pretty cover page and personal note that lists your favorite haunts, such as where to grab a cup of coffee or hear live music. Best of all? Most hotels will hand out your "booklets" at check-in, no additional charge to you.
Tips for Planning A Destination Wedding
THE TOOLS
City map, touring pamphlets, restaurant menus of your choice
Clip
HOW TO
Download our cover page template, type in your suggestions, and print on your choice of paper. You can also print first and fill out by hand (and curate your recommendations for each guest) for a more personal touch.
Gather pamphlets, maps, menus, etc. (you can find city-specific pamphlets from any city's tourist board), and secure them with a clip, with the cover page on top. 
How To Assemble the Perfect Welcome Bag
THE DETAILS
Hay Clip Clip with Handle, $8, TheLine.com.