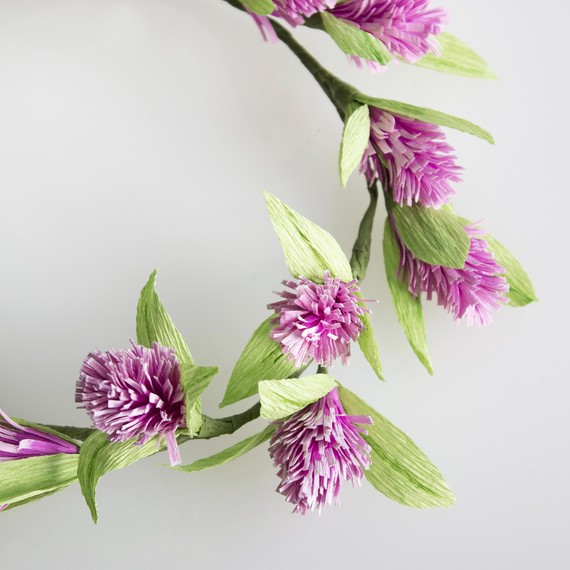 Flower crowns have been a popular wedding-day accessory for years—and we have a feeling that they're here to stay. Not all flower crowns, however, have to be the fresh varities you see all over Pinterest. If you or your bridesmaids are more interested in a headpiece you'll be able to wear over and again, a paper iteration might be your best bet. The best part? Since they're flower-free, they're much more likely to hold up over the duration of the big day, which is particularly helpful if you're planning a warm-weather wedding.
Turns out, you can make crowns that check all of these boxes on your own, which is why we put together a DIY project (complete with hand-made clovers!) to help you do just that. Ahead, an easy paper flower crown tutorial that anyone can master. And because it's so simple, it's a great project to do in a group. Grab your 'maids for an afternoon of gabbing and crown-making. (Sitting in the grass to do it is completely optional.) Pro tip: Just make sure to measure the wearers' heads before making, so you know how many clovers to create.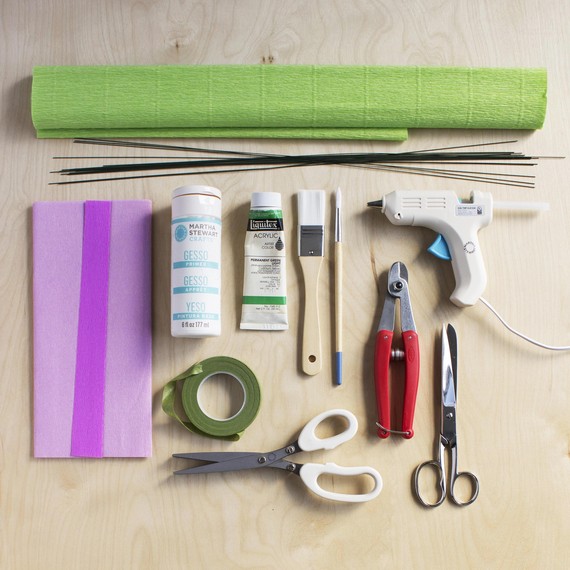 THE TOOLS
Light green crepe paper
Double-sided German crepe paper (we used Light Orchid and Pink Lilac)
Hot glue gun
22-gauge floral wire
Light green corsage tape
Gesso and green paint
Small and medium paintbrushes
Regular scissors
Wire cutters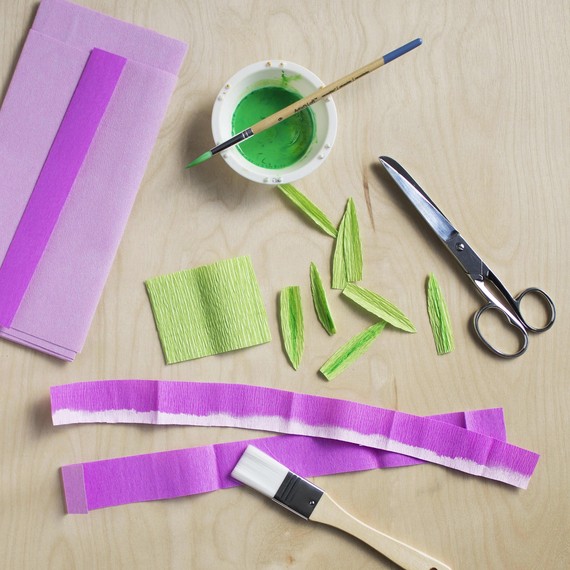 HOW-TO
1. Cut 2-inch long leaf shapes from your green crepe paper. Using your green paint and a small paintbrush, add a little detail with the paint to create a more realistic-looking leaf. Cut a strip of the double-sided crepe paper, about 14 inches long and 1.25 inches wide with the grain running the narrow way. Using the gesso and medium paintbrush, paint the edge white and allow a few minutes to dry.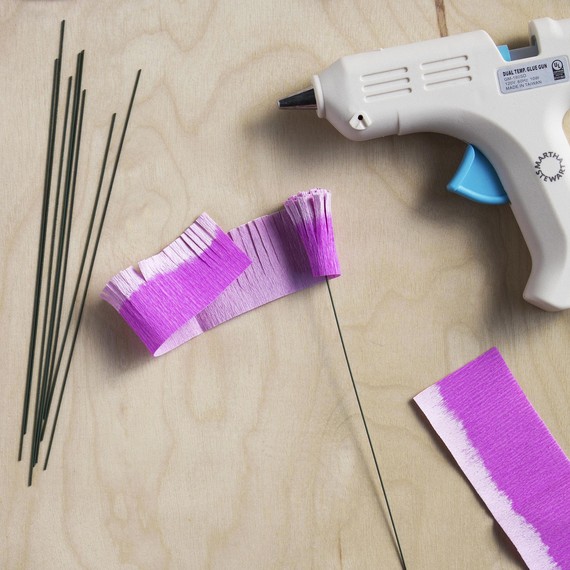 2. Using the fringe scissors, cut fringe along the entire painted edge, being careful not to cut all the way through. Add a drop of hot glue to the end of a 5 inch piece of wire and begin wrapping the paper around the edge with the painted fringe facing out at the top. Once it's wrapped, secure with another drop of glue.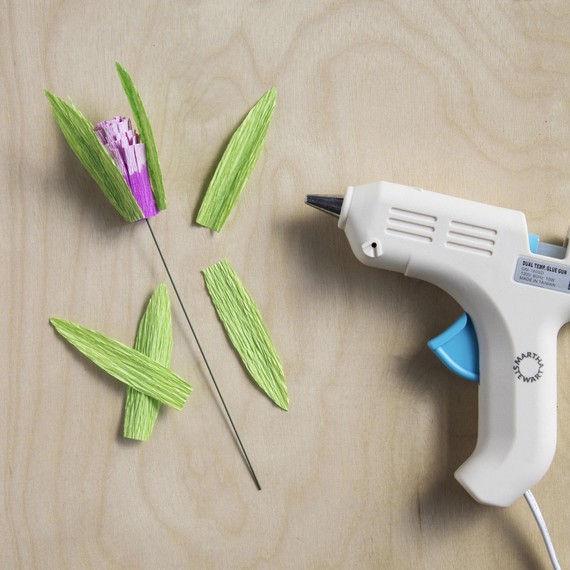 3. Add three leaves to your flower with small drops of hot glue.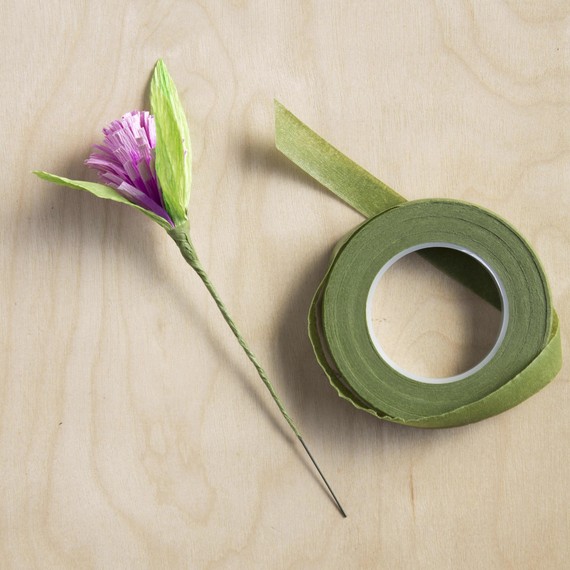 4. Next, wrap the stem, the end of the flower and leaves with corsage tape.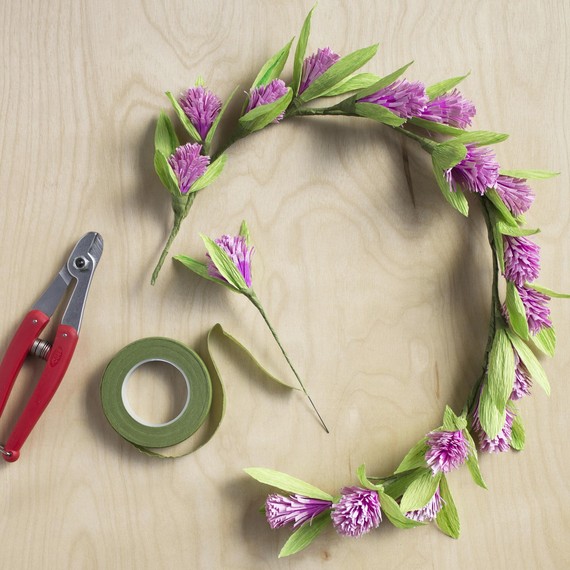 5. Making sure you've already measured the crown wearer's head to confirm how big it needs to be, make approximately 16 blooms (depending on the size of the crown). Twist all of the stems together and secure with the corsage tape.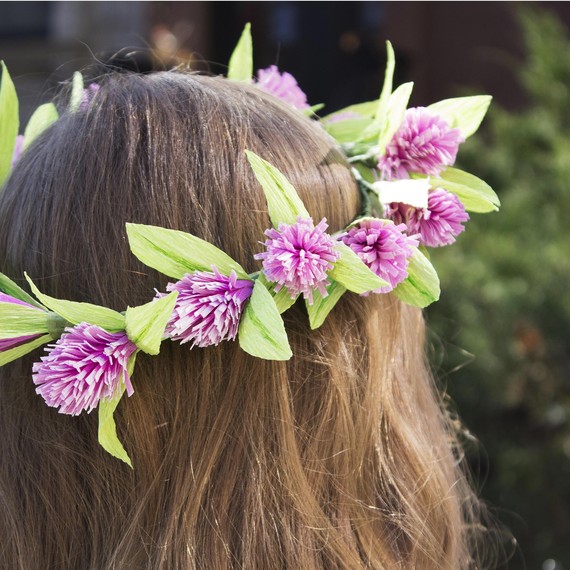 The best part about this flower crown? You can re-wear it as many times as you like!