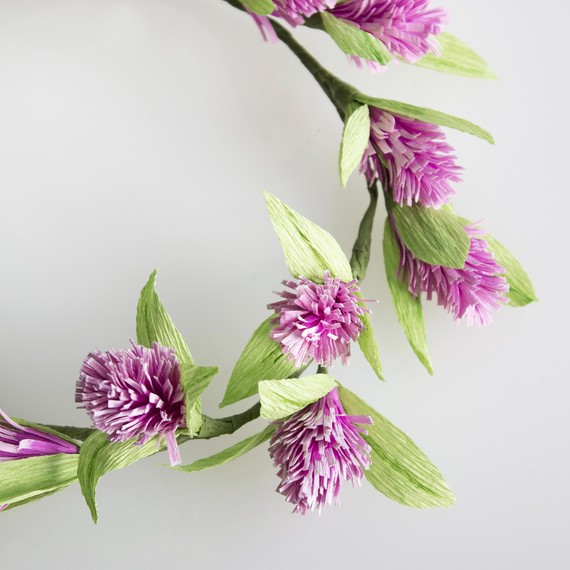 Few things transport us back to our youth like spotting a field of blooming red clover. Every spring and summer the signature flowers, which appear in a range of colors from vibrant red to light purple and pink, can be found dotted along fields full of green clover. As soon as it was warm enough to shed our jackets and let the sun hit our skin, we'd be searching for that ever-elusive four leaf clover and competing with the bees to pick our own red clover flowers. What came next was always tying the stems together to create a crown. And although beautiful, the clovers would inevitably begin wilting in mere minutes. 
Using crepe paper, we've created a clover flower with staying power, for a floral crown that stays beautiful as long as you need it to. We love the idea of making these for your bridesmaids or flower girls to wear to a warm-weather wedding. Or make one as a special crown for the bride-to-be to wear during her shower or rehearsal dinner. It's an easy DIY that anyone can master. Just make sure to measure the wearers' heads before making, so you know how many clovers to create. And because it's so simple, it's a great project to do in a group. Grab your friends for an afternoon of gabbing and crown-making … Sitting in the grass to do it is completely optional.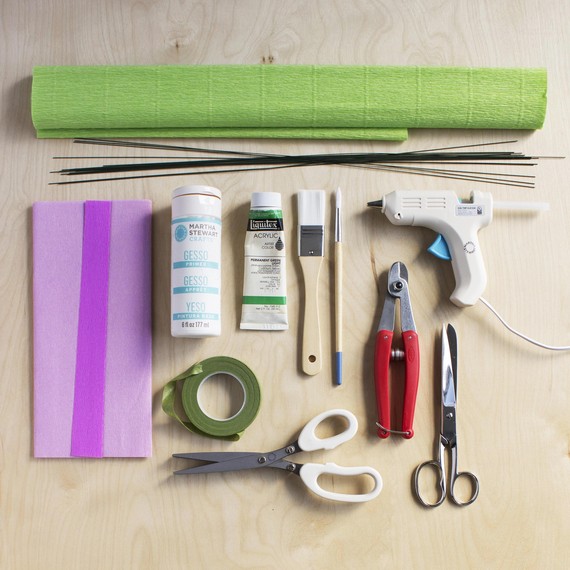 THE TOOLS
Light green crepe paper
Double-sided German crepe paper (we used Light Orchid and Pink Lilac)
Hot glue gun
22-gauge floral wire
Light green corsage tape
Gesso and green paint
Small and medium paintbrushes
Regular scissors
Wire cutters
 
How to Make Crepe-Paper Flowers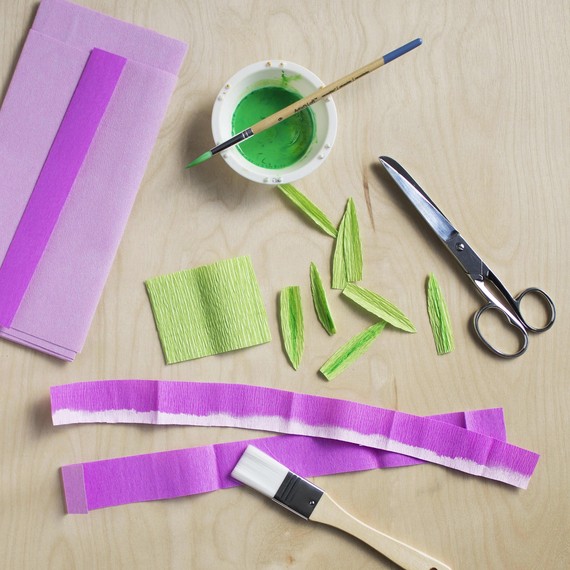 HOW-TO
1. Cut 2-inch long leaf shapes from your green crepe paper. Using your green paint and a small paintbrush, add a little detail with the paint to create a more realistic-looking leaf. Cut a strip of the double-sided crepe paper, about 14 inches long and 1.25 inches wide with the grain running the narrow way. Using the gesso and medium paintbrush, paint the edge white and allow a few minutes to dry.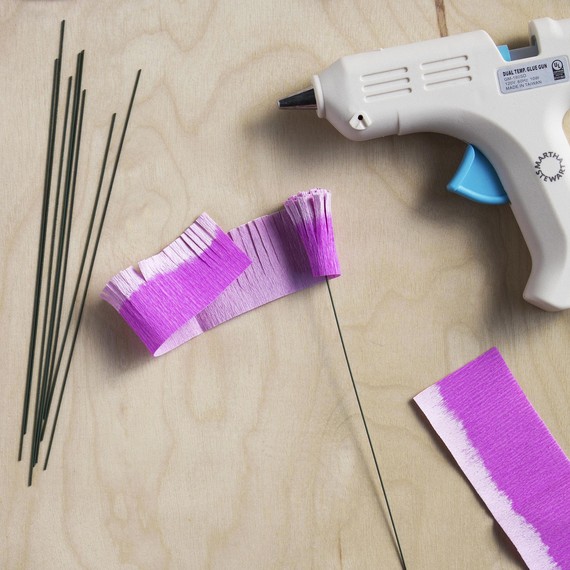 2. Using the fringe scissors, cut fringe along the entire painted edge, being careful not to cut all the way through. Add a drop of hot glue to the end of a 5 inch piece of wire and begin wrapping the paper around the edge with the painted fringe facing out at the top. Once it's wrapped, secure with another drop of glue.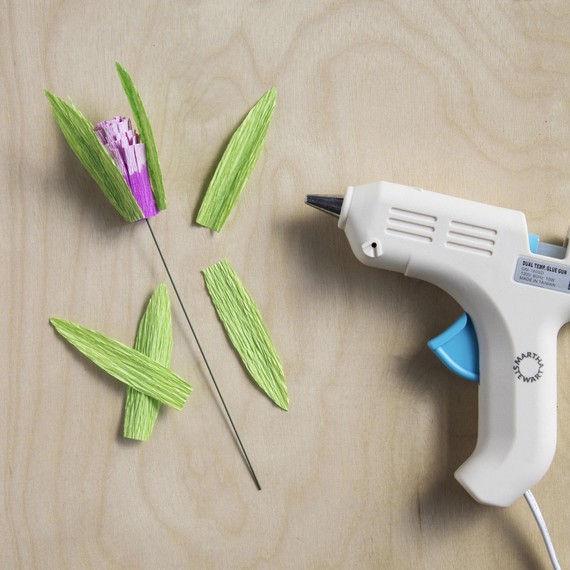 3. Add three leaves to your flower with small drops of hot glue.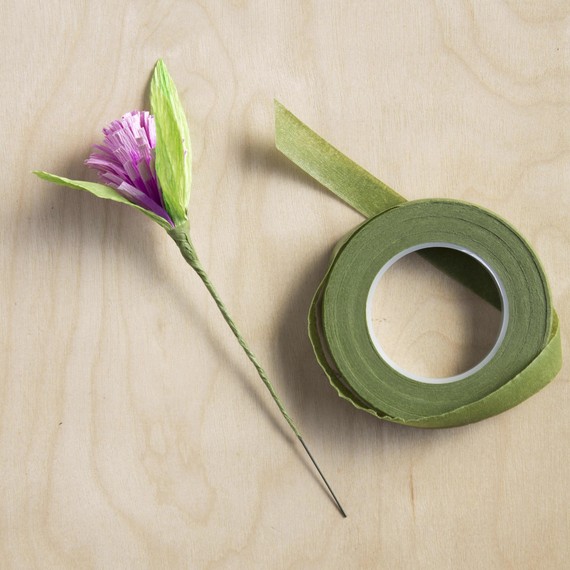 4. Next, wrap the stem, the end of the flower and leaves with corsage tape.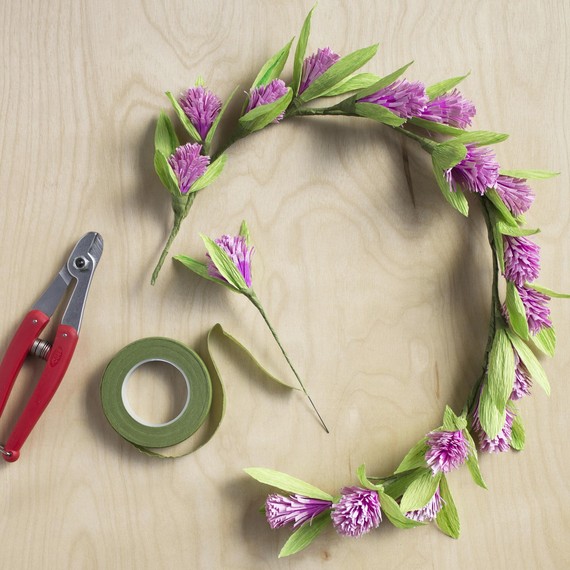 5. Making sure you've already measured the crown wearer's head to confirm how big it needs to be, make approximately 16 blooms (depending on the size of the crown). Twist all of the stems together and secure with the corsage tape.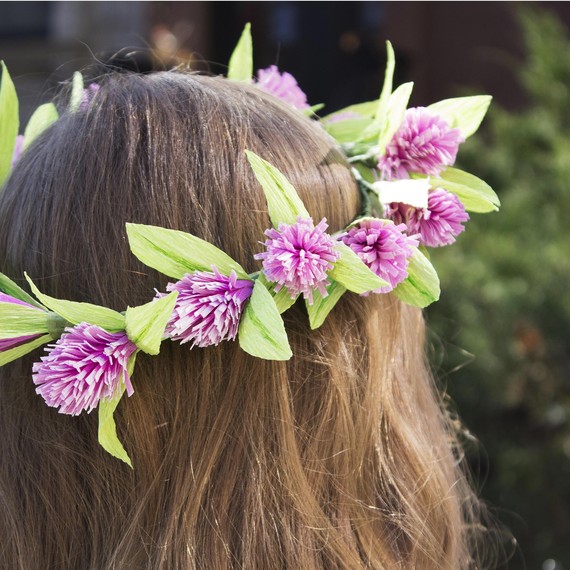 The best part about this flower crown? You can re-wear it as many times as you like!