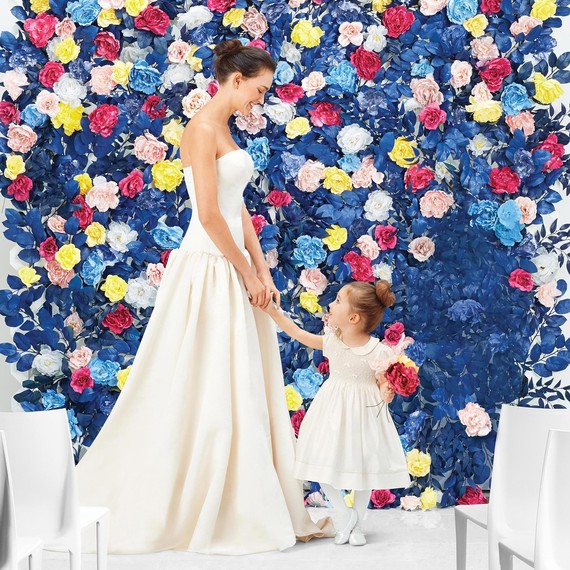 THE TOOLS
Pipe-and-drape kit
Two veranda white vinyl trellises
Zip ties
Acrylic spray paint (we used Montana Gold)
Faux ficus leaves
Faux flowers (Tip: SilkFlowersFactory.com has an amazing selection where you can get any type of faux flower in just about any color you want!)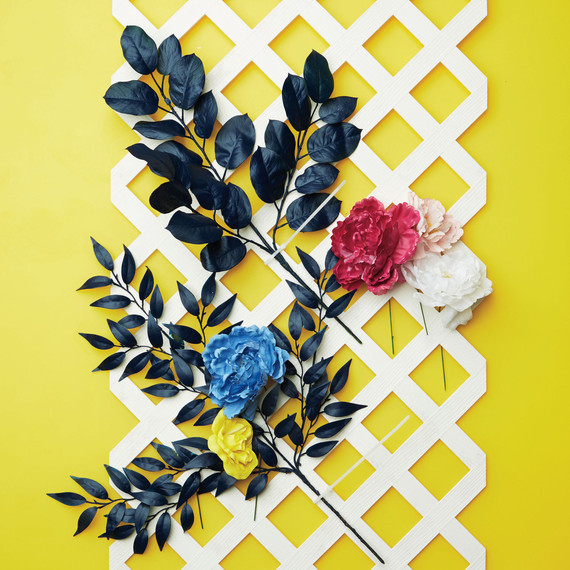 HOW TO
Set up pipe-and-drape kit according to manufacturer's directions.
Attach top of trellis to horizontal pipe with zip ties (one tie per opening).
Spray-paint leaves and two-thirds of flowers, leaving a third of the blooms white; let dry overnight.
Use zip ties to attach leaves to trellis, creating a base.
Attach flowers by threading stems between leaf base and trellis. 
THE DETAILS
Pipe-and-drape kit, $140 without the drape, OnlineEEI.com; white vinyl trellises (4 ft by 8 ft), $20 each, HomeDepot.com; Montana Gold acrylic spray paint, $8 per can, DickBlick.com; faux ficus leaves, $12 for case of 12, AFloral.com; faux peonies, $20 for 60 flowers, SilkFlowersFactory.com; faux open rose bushes, $17 for 12, SilkFlowersFactory.com; giant open rose bush, $40, SilkFlowersFactory.com.