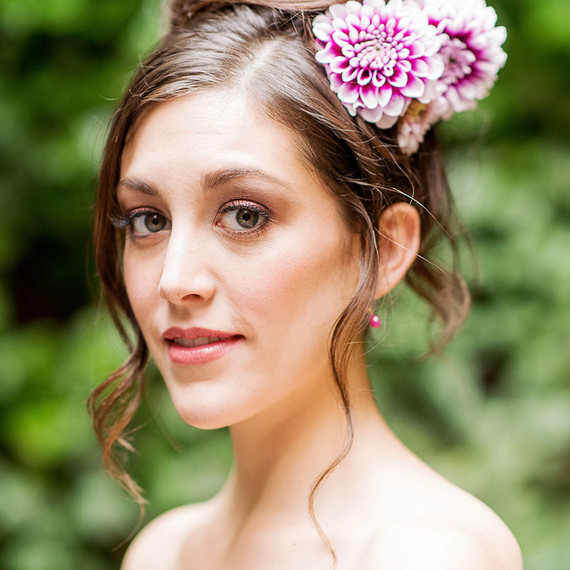 Start Fresh
It's time to get your skin in shape! Get a facial two weeks before your party to start your bridal beauty skin regimen, and to look healthy and radiant for your party. Ask your bridal makeup artist for a recommendation.
Bump Up Your Beauty Routine
Go just a little further with your makeup before your wedding to get accustomed to wearing more makeup than usual. If you only wear concealer, bump up to a tinted moisturizer. If you only wear eyeliner, try a mascara, and fill out your eye look by sweeping a taupe cream shadow/primer (such as bareMinerals 5 in 1 BB Advanced Performance Cream Eyeshadow in Soft Linen) all over your lid to give you a finished look and more pop. If you have never used false lashes, but might on your wedding day, try wearing a few lash clusters to get used to the way it feels.
Arm Yourself With a Secret Weapon
A light dusting of MAC Mineralize powder over your makeup will cut shine in pictures but maintain your newly-engaged glow.
Schedule an Extra Makeup Trial
An extra session with your wedding makeup artist is a great opportunity to try out a party look, but don't use your engagement party as your trial. There's too much pressure on the day of, and you want to relax and play during your bridal trial.
Look for Long-Wearing Cosmetics
You will definitely want to get recommendations and do some research ahead of time. Try a lip stain for extra long-lasting lips (more kissing, less lipstick on your Champagne glass). I recommend Tarte LipSurgence Matte Lip Tint for a soft matte finish, Ardency Inn LongPlay Lip Vinyl for full coverage and staying power, and Josie Maran Coconut Watercolor Lip Stain & Shine for a light, saturated stain and gloss combo.
See Kiss-Proof Lipsticks That Last