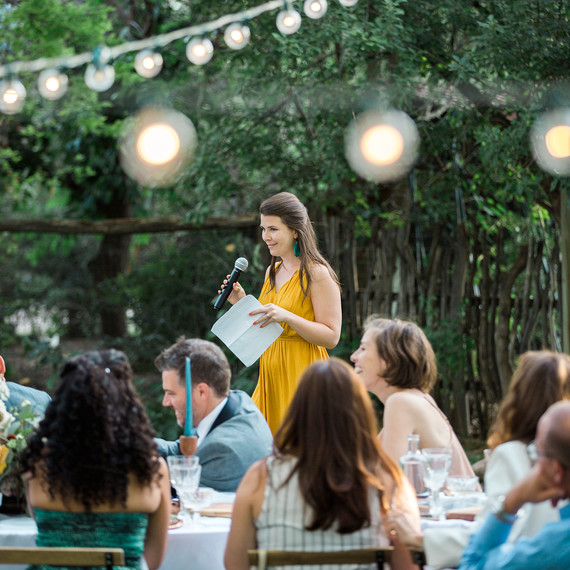 Whether it's your sister or your best friend, your maid of honor will be there for you during some of the best—and also the toughest—wedding-planning moments. From the moment you tell her you're engaged to the day she helps you calm down when your future mother-in-law gets a little too involved, the maid of honor is responsible for doing a lot. But one of the MOH's most important tasks is giving a toast on your big day. Here, find examples of the best maid-of-honor speeches we've ever heard. Let these great toasts inspire your own.
Taylor Swift was the "happiest maid of honor ever" at her childhood friend Brittany Maack's wedding. She reminisced about growing up with Maack and her husband Ben LaManna in the sweetest way, making us all grab a tissue. Check out the entire wedding video, with Swift's speech at the 6:34 mark.
This epic six-minute mashup from two sisters featuring songs like "Backstreet's Back" by the Backstreet Boys, "Back In Your Heart" by the Jackson Five, and "Oh Happy Day," stole our hearts and made us laugh. The girls rapped and sang, going all-out with their performance for their sister. 
This bride's younger sister re-wrote the lyrics to "Without Me" by Eminem and rapped her maid-of-honor toast for a full five minutes. Not only does that take confidence, but also some serious lung capacity. Naturally, she got a standing ovation.
This bride's best friend and maid of honor sang a new version of "Love Story" by Taylor Swift, recounting their friendship and watching her fall in love with her now husband. Cue the "awws!" 
The bride's younger sister flawlessly rapped her toast to Chris Brown's "Look at Me Now." If you know the song, then you know how fast Busta Rhymes raps his verses, and this MOH did the song justice. 
Taylor Swift's "Love Story" makes an appearance again here, with a bride's twin sister and younger sister singing their speech. Both sisters served as MOHs, proving you can have more than one!