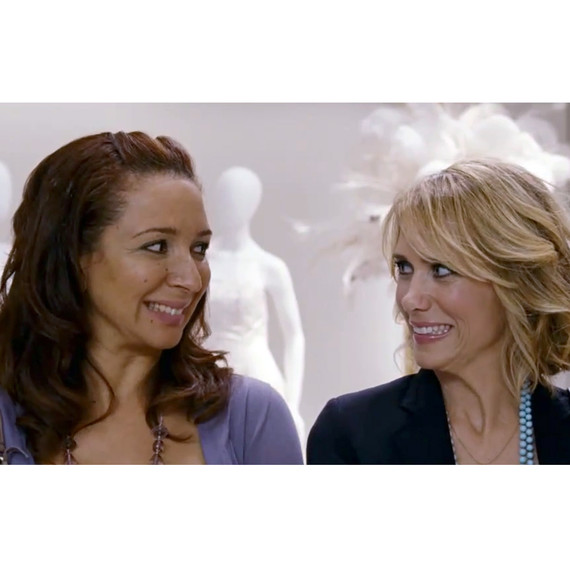 Fluff your pompoms—your inner cheerleader is about to werk
Forewarning: Emotions are about to get real and your support, general levels of understanding, and ability to comfort on a moment's notice will be put to task like never before. Between the dress fittings, the caterer, and the groom, the bride has feelings about everything, and your job is to help her put on her big girl panties and soldier on like the rock star bride you know she is. Because she's good enough, smart enough, and gosh darn it, people like her.
Stretch your neck; you will be nodding on cue and like it
Some battles are best left unpicked—and actually, where a bride is concerned, that would be pretty much all of them. Considering said emotions above, you are not in a position to protest even if it means chartreuse taffeta. Perfect a natural looking smile, bend head up and down, and look like you mean it.
Commence desensitization training now
You will be required to perform a few duties, which pretty much take all the romance, glamour, and class out of being a bride entirely. Case in point: The low-down dirty dress lift, otherwise known as the bathroom dress lift. Because when duty calls, she will look to you and none other to do the honors.
Perfect the art of small talk
Should there be a loose canon among the wedding party, you will be required to babysit—at all times—to keep this person fully occupied and entertained so she comes no where near the bride, especially during crucial moments. Even if this means pulling out your 7th grade dance recital routine from the vaults and performing it. Whatever it takes.
Start writing your speech early
Know this: Expectations for delivering oratory perfectly will be there from the moment she gets engaged. Do not under any circumstances leave this prized piece of literary gold to the last minute or (gasp!) wing it unless you are prepared for total and complete ruination.
How to Write a Maid of Honor Speech