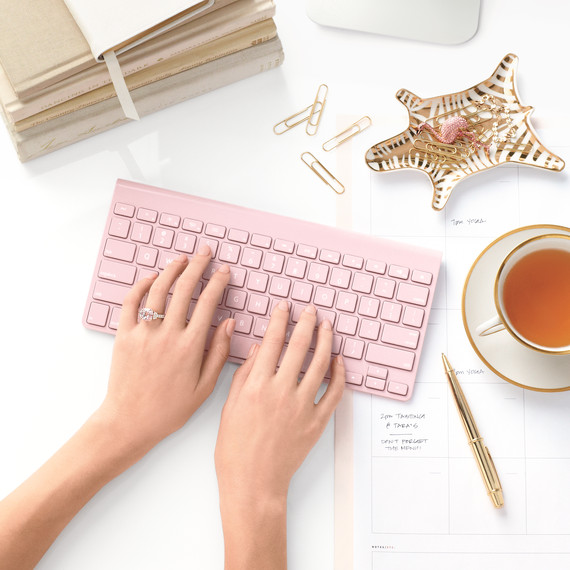 1. Build your wedding website
Even if you're not a Zuckerberg-style programmer, you can still put together a beautiful website. It's a great place to put your love story, pics, registry, and other must-know details. Be sure to print it on your save-the-dates so guests can easily find it. (Use one of our templates to get started!)


How to Create a Wedding Website
2. Update your address book
Unless you're regularly sending cards to the people on your guest list, your address book is probably out of date (if you even have one!). Set up a spreadsheet on your computer with your guest list. Each day send a few emails or texts to people on your list for their updated address. This will come in handy later for save-the-dates and invites.
3. Follow up with vendors
Whether you're still researching or you're at the contract phase (so exciting!), make them a lunchtime priority. Most vendors are loaded with events in the evenings and on weekends, so lunch is the best time to catch them. Just remember not to sign anything during work hours. If you're rushing to get it done before your lunch hour ends, you may not read carefully enough. Save that for after hours.
4. Search Pinterest for ideas
Spend some time on Pinterest a few days a week pinning bouquets, centerpieces, stationery, and other inspirational imagery. You'll be prepared to show your vendors your vision in no time! 
5. Put together the reception playlist
The music you choose to groove to is a reflection of you and your fiancé. Listen to Pandora or Spotify during your lunch break and jot down songs that you must hear. In a few days you'll have a complete list to pass off to the DJ or band.
6. Address your save-the-dates or invites
While addressing your envelopes is not the hardest task, it's one of the most time-consuming if you go the DIY route. Make it your goal to do 20 envelopes a day. Just be discreet so a non-invited co-worker doesn't strike up a "can't wait for the wedding" convo with you. Awkward! 
7. Stalk your registry
We know you've already looked online a dozen times at least. Don't be shy. Admit it! While you don't want to overdo it and lose the excitement at your shower, it's a good idea to check in to make sure no products have been discontinued.
8. Order bridesmaids' gifts
Show your bridesmaids that you care by finding the perfect thank-you gifts. Spend time browsing sites and pinning ideas. After a few days of searching, put in your order, check this off your to-do list, and spend the next few weeks (or months) anticipating how much the girls will love them.
9. Call your mom back
Is your mom blowing up your phone? While you can't pick up all of her calls (you have to work after all!), spend 10 minutes calling her back. She'll appreciate talking to you, and she may be bursting with great ideas.
7 Ways Moms Can Help (Without Being Annoying)