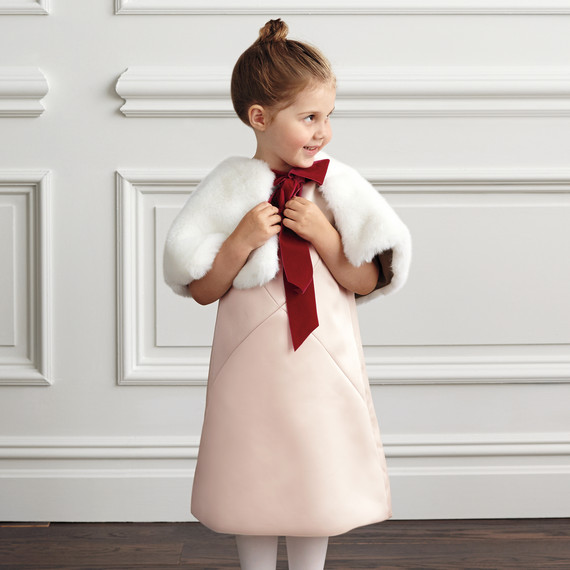 THE TOOLS 
2-inch-wide velvet ribbon (we used a velvet ribbon in "Beauty," $4,yd, M&J Trimming) 
Faux fur (we used "Winter Mink" faux fur in white, $43/yd, B&J Fabrics)
Satin lining (we used satin charmeuse in Lipstick Red, $4.50/yd, Fabric.com)
Thin marker or fabric-marking pencil
Fabric scissors
Sewing pins
Sewing machine
Hand-sewing needle
White thread 
HOW-TO
1. Download our templates for the shrug pattern and print them to size. (There is one larger back pattern piece and two opposing pattern pieces for the shoulders. The shrug sits on your flower girl's shoulders and ties with a loose knot to fit most flower girls. You can use the printed template to check to ensure fit before cutting.) Cut the ribbon in half and set aside.
2. Cut out each of the three paper pattern pieces and layer them on top of the faux fur and silk. Trace around the pattern and cut the fabric following the lines of the pattern pieces. You'll have one large piece for the center in both faux fur and satin and two small side pieces each in faux fur and satin. 
3. Place the larger piece of faux fur furry side up. Pin the longest straight edge on each of the smaller pieces of faux fur to the corresponding straight edge on the larger piece, as shown here. Make sure the fur sides face in toward each other. Use a sewing machine to stitch along each seam. Remove all pins.
4. Repeat this process with the satin so you that have two matching pieces of fabric. 
5. Place the satin on top of the faux fur so that both the shiny side of the satin and the furry side of the fur face inward. Pin around the edges. While you're pinning, slide one of the two pieces of ribbon into each of the short straight sides, in between the two fabrics. Make sure the velvet faces in the same direction as the faux fur. 
6. Sew around the edges to create a seam around almost the entire garment. Begin sewing at the center of the large curve and stop several inches from where you started, leaving a hole large enough to fit your hand in. Reach in and pull the fabric to reverse it so that the shiny side of the satin and the fur side are now on the outside. 
7. To close up the remaining hole fold the edge of each fabric inward to create a clean seam. Thread the needle and tie a knot at the end. Thread the needle through the fabric from the inside to hide the knot and close up the seam with small ladder stiches.
8. Trim any extra threads and cut the ends of the velvet ribbon at 45-degree angles.