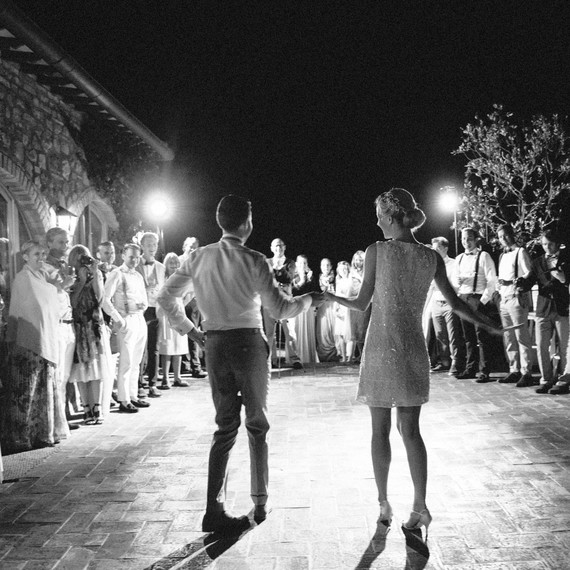 Stay open-minded to unexpected dance styles
There are no first dance rules that say you have to stick with a traditional slow dance. Swing, salsa, and hip-hop dancing are all fun first-dance options. "More and more couples are opting to break out of the box and choose styles their guests wouldn't expect," say Krista and Kelvin. A wedding dance choreographer can lead you to an out of the box (and totally doable) style or mash-up your guests won't be able to take their eyes off of.
Don't be afraid to start your dance with some PDA
No, this doesn't mean a full make out session on the dance floor. We're talking about PG-rated forehead kisses and pecks on the lips. "It's not too tricky to walk in together holding hands with strong eye contact, a kiss on the hand, a little spin for the lady, and a moment to connect before dancing," says Val. Your guests will love seeing how connected you are from the moment you step on the dance floor.
Pick a song you both love
"Many ladies pick out the song without ever consenting the groom—the best first dances are not only when the couple both like the song, but actually know the song," says Val. Your first dance song doesn't have to be a love ballad, either.  "Whether it is the song that played on the radio during your first date, or your favorite old school hip-hop song as kids, don't be afraid to throw out tradition and choose a song that is uniquely yours," Krista and Kelvin note.
Choose a dress and shoes that are "danceable"
There's nothing more cringe-worthy that watching a first dance where the bride is clearly uncomfortable moving in her dress. "Most brides don't consider the first dance when choosing their wedding dress, but there is nothing that will hinder a first dance more than a dress you can't move in," say Krista and Kelvin. More and more brides are choosing to surprise wedding guests by stepping out in a short, moveable number for their first dance.