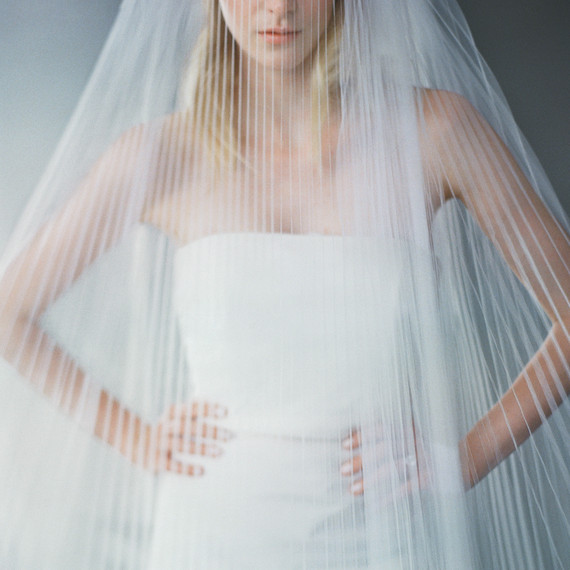 You need to get a fake tan to look good in wedding photos.
There's a popular belief that if you're tan, you'll look better in pictures. "That's not necessarily true," says celebrity makeup artist Elaine Madelon. "Brides get into the tan situation, but what's really important is that your skin is hydrated, looks healthy, and has a little sheen." Sun-kissed skin can easily be achieved with tinted moisturizing products.
You shouldn't wash your hair on the big day.
The idea here is that "dirty" hair is easier to style because it holds products better and lessens your chances of flyaways. "Of course you can wash your hair," says Lisa Bailey, a New York hair guru and celeb stylist. "It's all about the products. If you have the right ones frizz or flyaways won't be an issue."
Cutting your hair will make it grow faster for your wedding.
Many stylist stand by the fact that cutting damaged ends makes for healthier hair. However, there's no scientific correlation between snipping and scalp stimulation. "Cutting your hair has no influence on the rate of regrowth as growth starts in the hair follicle," says Sandra Kopp, M.D., a New York-based dermatologist. "Trimming split ends only makes hair appear more healthy as it gets rid of breakage."
Drinking lots of water will make your skin look amazing on your big day (and beyond).
While H2o is great for overall health, it doesn't correlate with a supple surface. "The hydration level of your skin is mainly regulated by glands that secrete sebum or oils, which maintain a protective coating on your skin,'' explains Dr. Kopp. "Using a good daily moisturizer is what can help lock in moisture and prevent that outer layer of our skin from drying out."
Use toothpaste to get rid of a zit in the days leading up to your I do's.
We're all for making a pimple instantly disappear, but toothpaste isn't going to work that magic. "While it may dry out the area, toothpaste is actually very irritating to the skin and causes more redness," explains Dr. Kopp, who suggests opting for an over-the-counter benzoyl peroxide or salicylic acid spot treatment.