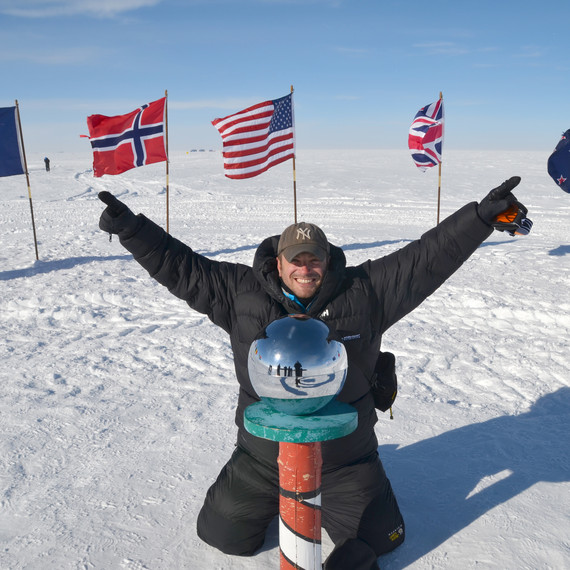 It's safe to say that Lee Abbamonte has seen more of the world before the age of 40 than most people hope to see in a lifetime. At last count, the former Wall Street banker has visited 318 countries—including all 193 official sovereign nations as designated by the United Nations. He chronicles his adventures on his blog, writing about destinations as far-flung as Easter Island, Mongolia, and Tibet.
Aisle or window?
Aisle 100%! I hate asking others to move so I can get up and like to get up and down as I please—especially on a long flight.
Check or carry-on?
Carry-on 100%! I hate checking bags because it's waste of time. Plus, carrying on saves money and it means I didn't over pack!
See the Best Suitcases
Favorite souvenir from your travels? 
Passport stamps. Having been to every country in the world, that's really the only souvenir I need. If you saw my apartment, you wouldn't even know I travel!
Most romantic destination?
Bora Bora, the Maldives, and the Seychelles are all tied as most romantic islands or beach places in the world because they are as beautiful as you want them to be. I would say Paris is the most romantic city, as cliché as that may sound—but there's a reason people always say that.


Most Romantic Places
Most romantic hotel?
There are a few. The Four Seasons Bora Bora, which is the epitome of luxury. It has overwater bungalows with private pools and serves amazing food. It's where many celebs honeymoon. I also love the Four Seasons Seychelles, which is situated on a mountain. Each room has an infinity pool overlooking the property and beach. Finally, the InterContinental Fiji has a great adult pool that is stunning at night, and the beachfront rooms have private outdoor tubs.
Best camera to document your travels?
I use an iPhone for everything, but I also have a Nikon 5100 that I use for safaris and trips to places like Antarctica.
Instagram-Worthy Hot Spots
Best travel apps?
TripIt. It's the best travel app on earth and has changed the way I travel because I am actually organized now. It keeps everything in one place!
In-flight beauty tips? 
I'm naturally gorgeous, so I don't worry about how beautiful I look on a plane! Seriously though, just brush your teeth and use deodorant.
Jet-lag cures?
Tough it out and just power through it!
Best ways for killing time during a layover or flight delay? 
If you aren't allowed into the lounge, pay for it because it is so much better than sitting in the terminal. You can shower, get food, and it may even have beds!