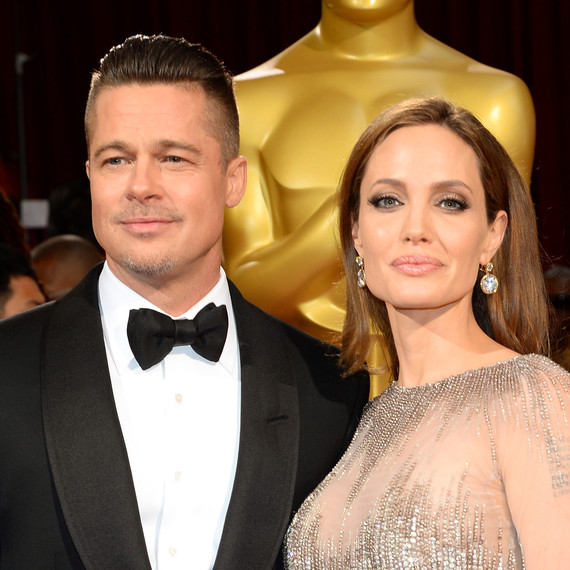 After nine years and six children together, it was a pleasant surprise when Angelina Jolie and Brad Pitt secretly got married last year in France in a remarkably low-key ceremony that focused on their kids—who wrote the vows and even baked the wedding cake for their parents—but we didn't realize just how casual the whole thing was to Brangelina.

"It was just a nice thing," Jolie recently told the New York Times about the 2014 celebration.

Because the ceremony was in France, they chose to make their marriage legal in California. "One day I was in the edit room, and [Brad] was doing something and an assistant said, 'You have to sign some papers,'" she said. "So we came back and between meetings we were told, 'Here's your license.' Then someone said, 'The judge is outside.' We both said, 'What do you mean, the judge is outside?' Then the judge came in, this lovely guy, and at some point, Brad said, 'Shouldn't we be standing up?' The judge said, 'No.' Then suddenly we realized we were married, in the most unceremonial way possible."

"For me, the big moment was when [we] signed the [joint adoption] papers for Maddox and Zahara," she said. "That was a decision to parent together, to commit to being a part of each other's lives for the rest of my life. So [marriage] wasn't close in comparison. In a way, it was very casual."

It seems as if Brad and Angelina have taken this refreshingly realistic attitude towards their entire marriage—including flying their whole family to Malta to shoot their newest movie, By the Sea, instead of taking a traditional honeymoon.

"Well, technically it was a honeymoon," she said. "A few days into filming I thought: This is such a bad idea. What was I thinking? This is going to destroy us before we've even gotten started. But by the time we got to the end of the film, we'd argued, challenged each other, disappointed each other, had good days, bad days, all of it. We'd pushed through, learned something about each other, found a new working relationship and came to like the idea of 'Yeah, it gets really bad, but you work it out.'"

By the Sea, which premieres on November 13, is written, produced, and directed by Jolie and is the first time she and her husband have appeared on screen together since 2005's Mr. & Mrs. Smith. The film centers on a fictional couple—played by the IRL married couple—that travels to France in attempt to save their troubled marriage.

"By the Sea deals with that period when the honeymoon is well over and the couple is faced with the banality of every day and the pains of the unplanned," Pitt told Vanity Fair. "There are no Hallmark cards that define the next chapter, or the value of a history together. So who are you?"

The film is also the first time she directed her husband in a movie. "At first it was a little uncomfortable," she told the New York Times. "You want to be careful what button you press and what you don't."
< p>
But it seems that Pitt didn't feel the same way. "[It's] surprising how much I enjoy the direction of my wife," Pitt told
Vanity Fair
. "She's decisive, incredibly intuitive, knife-sharp, and might I say, sexy at her post. I trust her with my life."
In their new movie there is plenty of shouting, tears, and drinking. Are they worried that the audience will think this is what their marriage is actually like? "If people think these are our particular issues, well, that's wrong," she told the
New York Times
. "But if they want to think we have terrible fights, are imperfect, have insecurities and can be depressed and emotional, of course that's true. We have problems, arguments. We are two very human, flawed people. And I think that's a good thing to show."
Watch the trailer for
By the Sea
: