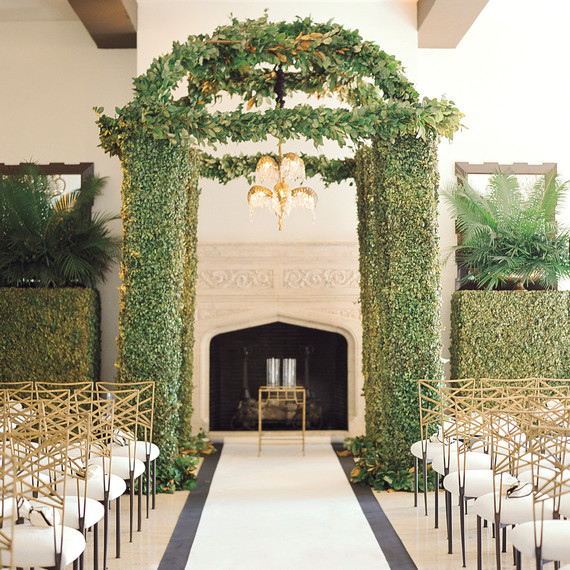 A lot goes in to planning a wedding. A lot to taste, a lot to touch, a lot to take in really. Putting together a party that feels and looks just the way you want it to involves time, creativity, and a slew of decisions to make. But luckily, with these tips on hand you'll be armed and ready to go.


Enter to Win Our Dream Wedding $25,000 Sweepstakes!
Don't Force a Color Palette
It's OK to not have a color palette picked out. "So often the colors are chosen after finalizing the space where couples will marry," planner and designer Alison Hotchkiss of Alison Events says. 
Jessica Sloane of Jessica Sloane Event Styling and Design notes that having very specific wedding colors in general is a thing of the past. "It's no longer important to have your favorite color being worn down the aisle by all your bridesmaids. Instead, focus on what resonates with you. Think about what you want the day to feel like, and less about what you want it to look like. That will help lay the foundation in telling your story. And a color palette will ultimately surface."
Edit! 
"You'll find yourself drawn to several different styles and details," say Jamie Sears & Kate Harlan of Simply Chic Events. "Take a step back and focus on the design elements that will make the most impact. When it comes to design, less is often more. Don't feel as though you have to incorporate everything you are drawn to. A few meaningful details will create cohesion and elevate your design without distracting from its natural beauty.
Don't Be Bound to Your Pinterest Board
"Part of the fun of being in the business of creating weddings is that there are endless possibilities when it comes to design and execution of new ideas and concepts," says Lindsay McCoy of Bows and Arrows, a floral design studio in Dallas. "Often I find that a good portion of our brides come in with their Pinterest board with pins that have circulated 100+ times. I love the opportunity to branch away from creating a replica of their pinned ideas. I believe (and hope!) our clients seek us out because we can execute and formulate ideas that are unique to them and how they envision their day, and trust us as the designer to execute that with excellence."
See the Big Picture
Mindy Rice loves when couples look at their wedding design as an art installation with one shared canvas. "The client will put the the 'first layer' down, then step back and allow the designer to add a 'second layer'" she explains. "Going back and forth in such a way is a fail proof technique to a successful and original wedding that is also very personal. Let your trusted team, who see the trends on a daily basis, weed them out so your wedding doesn't feel instantly dated."