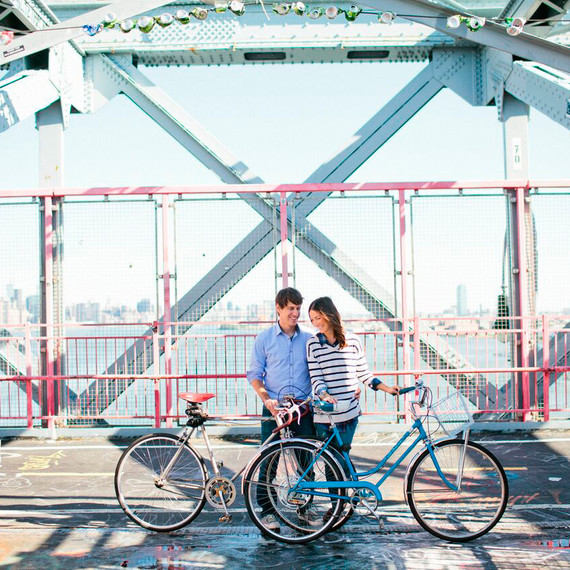 Chelsa and Dennis's engagement tale is a long one, full of twists and turns and tears—and laughter and joy. But to totally appreciate what Chelsa calls an "awkward and hilarious but very sweet" story, it's necessary to go back to the beginning.
The Backstory
Dennis Crowley and Chelsa Skees are a thoroughly modern couple: He's a founder of Foursquare; she's a stylist who recently launched her own beauty line. But for their first get-together in 2008, the New Yorkers, who had met at a party, agreed on an old-fashioned activity: bicycling. What they hadn't established? Whether it was a date at all. So when Dennis swooped in for a first kiss, a startled Chelsa, who thought they had just been hanging out as friends, quickly pedaled away. Dennis, a little embarrassed but undeterred, texted her later and asked her out again. This time intentions were clear, and the two soon became an item.

See Chelsa and Dennis's Fall Wedding in Upstate New York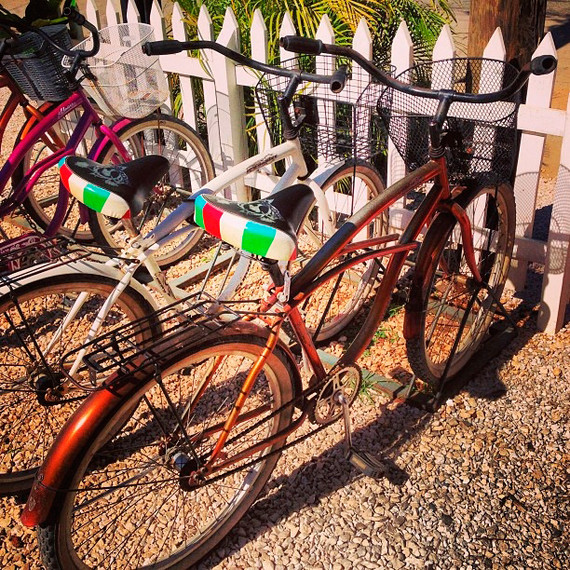 The Proposal

Four years later, the two took a trip to Costa Rica, where Dennis planned to pop the question ... somehow. He was aiming high, originally hoping to find a way to propose on a surfboard without losing the ring in the ocean. But when tying a dummy ring (read: a Chapstick bottle) to his bathing suit using a shoelace failed, he decided to shoot for a much simpler plan B: asking at dinner, on New Year's Eve. But then there was a citywide blackout, so the two took to the beach instead for plan C.
When "hooligans" began shooting bottle rockets at them, Dennis decided to postpone the proposal for the next night, again at dinner. That plan, too, was thwarted, this time by running into a Foursquare fan. So after dinner, Dennis was banking on their bike ride along the beach back to the hotel (plan E!), with the sweet bonus that it would bring their bicycle romance full circle. The only problem: Chelsa was tired and grumpy and in no mood to stop pedaling, despite Dennis's efforts. "I wanted to go back to the hotel," remembers Chelsa, "but he insisted I stop riding." 
Find the Most Romantic Places to Propose to Your Sweetheart
Eventually, they encountered a rocky area that was tricky to navigate in the dark. ("Oh, did I mention that?" Chelsa says. "It was pitch black, like, so dark I couldn't see my hand in front of my face and had to used my phone flashlight as a headlight to see in front of me.") Once Dennis dismounted, he tried to get Chelsa to do the same, even pointing out constellations but getting nothing from Chelsa but "COME ON, COME ON! I'M TIRED, LET'S GO!" 
Get Our Dos and Don'ts for Planning an Unforgettable Marriage Proposal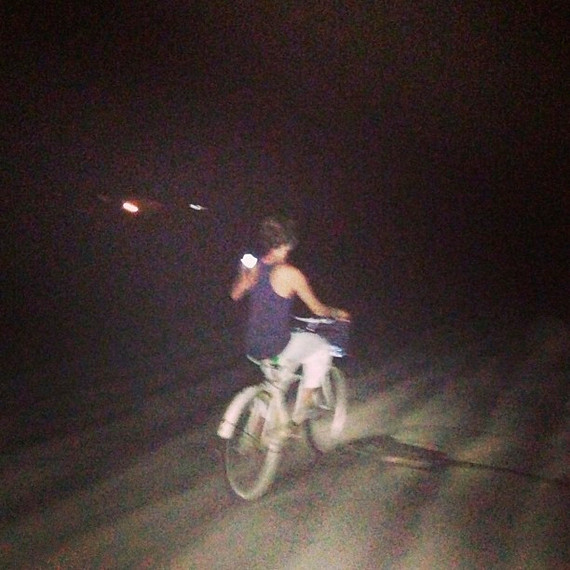 Frustrated at that point, Dennis pleaded, "Just please come here for a second!" Chelsa finally listened, and in the darkness Dennis grabbed the wrong hand and said, "Wanna get married?" 
Still not grasping the situation, Chelsa replied, "What?" He said, "I mean, will you marry me?" His voice was shaking, he was starting to cry, and he was trying to put a ring on her middle finger on the wrong hand. Realizing what was happening and why he was being so awkward and weird all day, Chelsa started crying, too.
"He then said, 'I had all these things that I wanted to say. I had all these things! I forgot them all, I ruined it!' I mentioned to him that I never answered his question. He said, 'Oh, right. Well? Are you in?'—which felt more like us, so I laughed and said, 'Yes, I'm in.' I then helped him put the ring on the correct finger."
Read More Proposal Stories We Love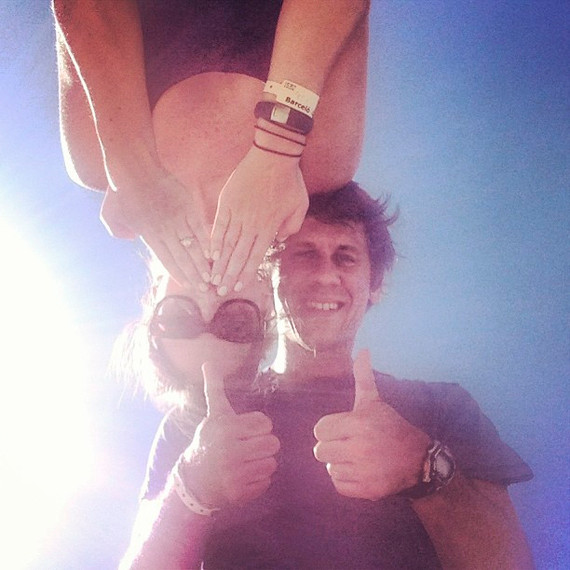 Now completely reenergized with excitement (and still a little bit stunned), Chelsa suggested they head back into town to grab a drink. "Plus, being in the dark, I was dying to see the ring! My favorite part about the entire engagement was asking Dennis on our ride back into town to describe the ring to me."
"He said (and I'll never forget), 'I know you weren't convinced that a diamond was something you wanted, but it's a diamond. It's a vintage ring from the 1940s'—which he knew I'm obsessed with since my mom collected vintage jewelry; I probably know more than the average female about old jewelry—'and I originally had a different ring picked out, which was a brown diamond of the same era, and it looked just like you. I knew that ring was you now but I wasn't sure if that ring was you in 20 years or 50 years from now, but this ring that I got you looks like you now, and I think will be you in 20 and 50 years.' I thought that was the sweetest thing I've ever heard him say to me."
Get Tips for Finding a Vintage Engagement Ring You'll Cherish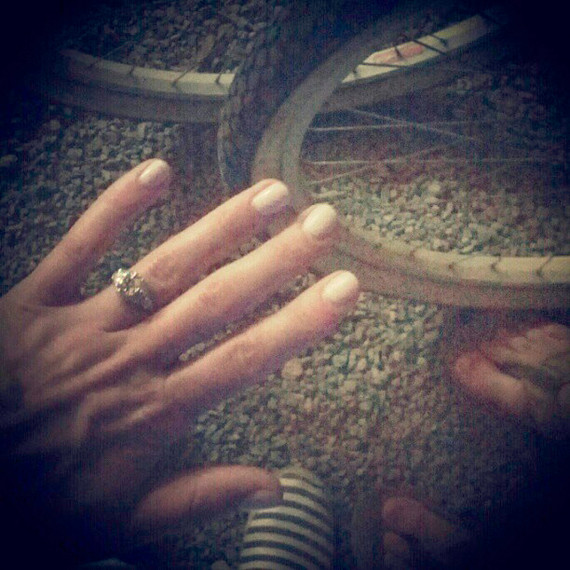 Back in town, Chelsa raced over to the first glimmer of light to see the ring. "It was beautiful," Chelsa says. "Over drinks, he collected his thoughts and told me all the things he meant to say while he was asking for my hand in marriage. We also decided to keep it a secret for a few days before we called our family members to tell them. It was a nice quiet couple days of just us enjoying our engagement."
Find Ways to Announce Your Engagement