Seating assignments are a necessary step in wedding planning. You don't want your always-battling uncles to cause a scene arguing politics at your reception dinner. But more than keeping the peace, they're a thoughtful way of sparking scintillating conversation, breaking people out of their habitual cliques, and bringing new friends together. Make sure your plans get followed without a hitch with escort cards. These traditional nuptial details don't have to look traditional. They can be creative, play into your theme, and turn heads with something completely unpredictable. For inspiration, here are some of my favorite ways to display escort cards and place cards.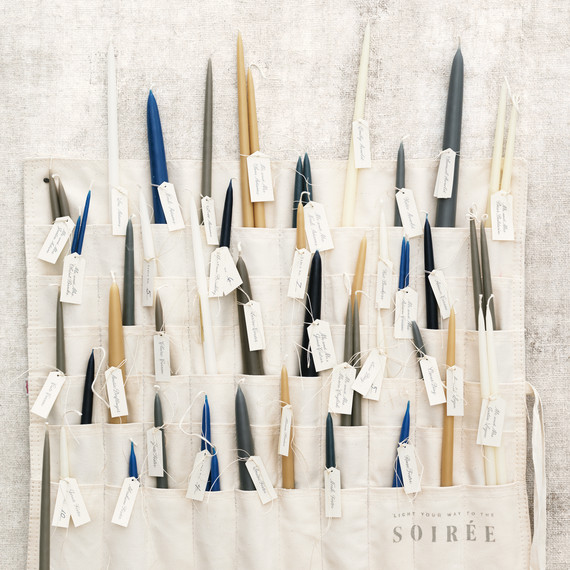 Make Them Interactive
Use escort cards to get your guests actively involved. Here, tapered candles are tagged and tied with names and table numbers, then placed in canvas pockets. A stenciled note instructs attendees to take a candle to "light your way to the soirée."
Get More Ideas for Using Canvas in Your Wedding Décor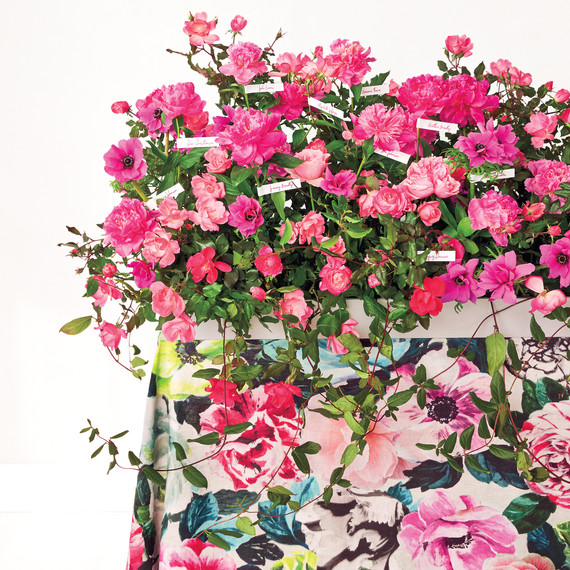 Give Flowers
Attach escort card tags to the stems of your favorite flowers for guests to grab. Keep it fuss-free by placing gardening shears on the table to cut the stems. Or have a staff member on hand to do it for them. Add plenty of untagged flowers in the bouquet, keeping the arrangement lush long after the names have been claimed.
See More Wild Ways to Highlight Flowers at Your Wedding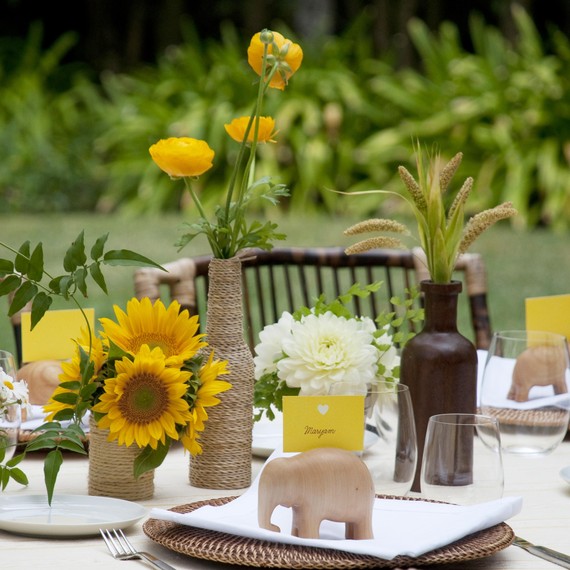 Play Up Your Animal Instincts
Delight guests with an elephant place card holder. The minimalist wooden design prevents these pachyderms from entering circus territory. After finding the perfect hand-carved elephants, we simply added a slot to the back with a handsaw. 
Get Inspired by More Unique Seating Cards and Displays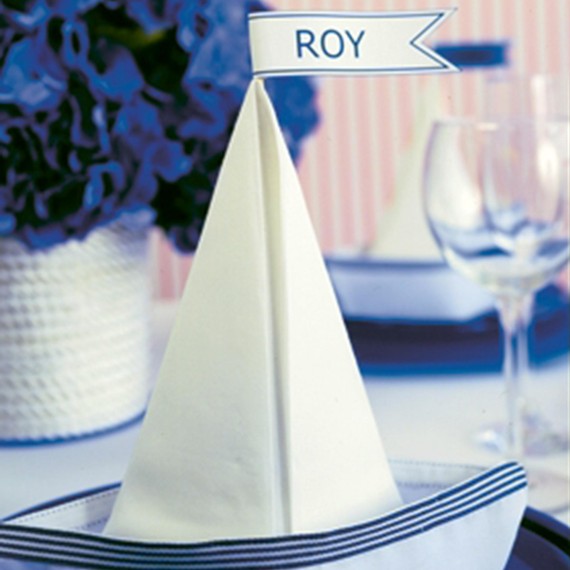 Let Your Napkin Be the Guide
We glued a paper flag to a toothpick to easily adhere the place card to the top of a "sailboat" napkin. Or fold beautifully hued napkins to resemble a flower bud and use your place card as the "stem." 
See More Ways to Fold a Table Napkin for Your Big Day and Every Day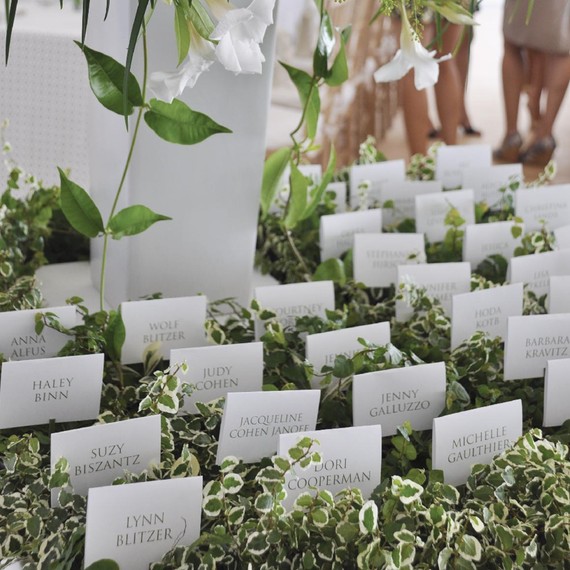 Look to Your Location
If you're going to go the traditional folded-card route, try making the presentation impactful with a nod to your surroundings. Inspired by the French-influenced gardens filled with clipped hedges and pea gravel walkways, we placed classic calligraphy-covered envelopes in a textured bed of garden pebbles and plants. Rising above them was a topiary, taking the French garden theme to whimsical new heights.
Get More Ideas for Outdoor Escort Card Displays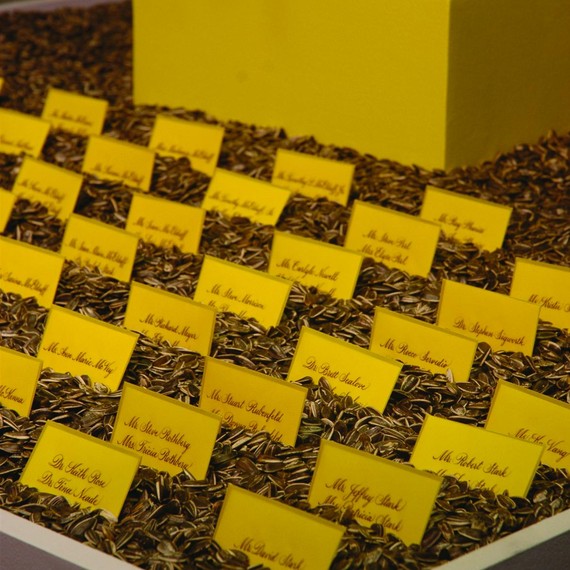 Work With Your Wedding Theme
Use this as an opportunity to tie the escort card table into the style and tone of your big day. Here, bright-yellow escort cards in a bed of sunflower seeds served as a playful reference to a luscious sunflower arrangement.
See More Food and Drink Seating Card Display Ideas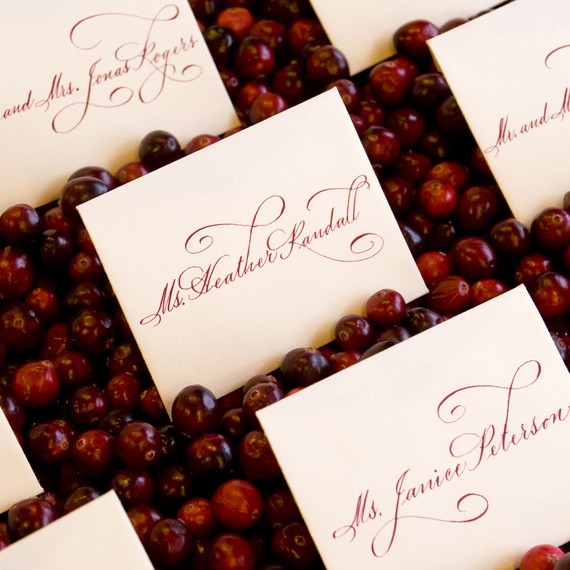 Stay in Season
We took the same idea and reinterpreted it with these sophisticated cards tucked into rich, ruby-red berries, perfect for a December wedding.
Get More Ideas for Classic Seating Cards and Displays