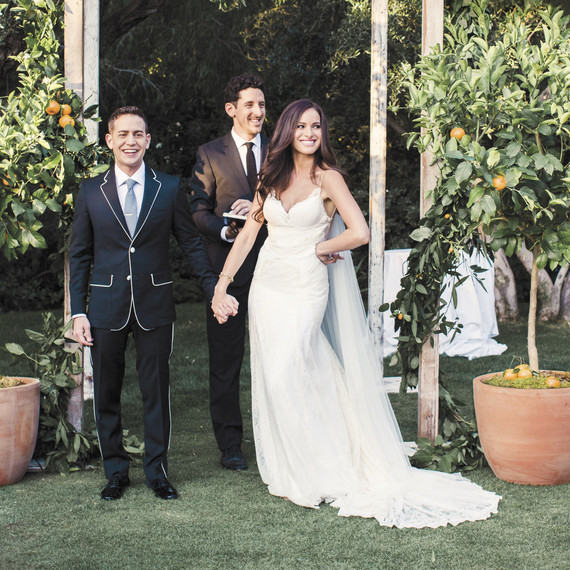 Engage the Audience
I have watched hundreds of ceremonies, and the ones officiated by a close friend or relative are often more intimate and interesting because of the special connection between the officiant and the couple. Use that to your advantage and speak with compassion and humor; don't be afraid to be playful and fun, as well as serious. You want to grab the guests' attention, and when anecdotes and stories about the couple and their courtship are infused throughout the ceremony, it keeps people engaged.
Incorporate Meaningful Text and Quotes
If you are marrying a couple from two different cultures or languages, consider using traditions, words, or readings from both. Just remember to keep it short and sweet. 


Find Unexpected Wedding Ceremony Readings
Take Your Time
"Our first instinct is to rush right through to the end," Lisa says. "But the readers and the bride and groom can speak more slowly than they are tempted to. They can also pause if they need to. From the audience's point of view, slower speech and pauses indicate emotion and thoughtfulness." In addition, the bride and groom will want to enjoy every moment of the ceremony, taking in the smiling faces and being as present as possible. I remember at my own wedding, a serene seagull perched on the side of the dock throughout the whole ceremony. When Lisa pronounced us husband and wife, the bird flew away. To me, this was the loving spirit of Markus's deceased mother watching over us.
Let the Bride and Groom Shine
Your role is to guide the ceremony along while keeping the focus on the bride and groom. Encourage them to write their own vows, but be prepared to chime in if they're struggling with what to say. Lisa advised me to start with "I love you because...." Write down your main talking points (maybe even memorize them), and rehearse together so you can all feel confident speaking in front of everyone on the day of. 
How to Write Wedding Vows That Withstand the Test of Time
Be a Calm, Supportive Presence
Working with a friend or family member should be fun for the bride and groom—not stressful. In your interactions with the couple, be positive and encouraging. Take notes from Lisa, who, on the big day, likes to "encourage the bride and groom to remember to stop for a moment after they kiss. This is such an important moment, they won't want to miss it. They have just transformed into a wedded couple, and their loved ones are clapping for them and surrounding them with happiness. Ideally, they will look at their guests, hold hands, take a breath, and let it all sink in."


Get Alison's Tips for a Stress-Free Wedding