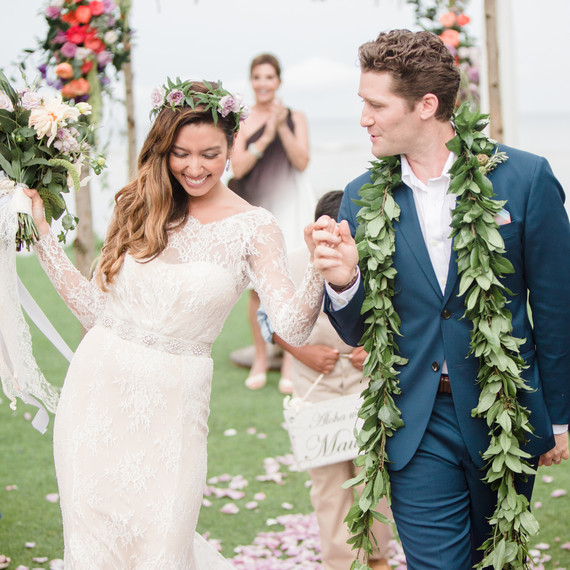 "Feels Like Home" by Chantal Kreviazuk
Renee made her aisle walk to this romantic tune, which has appeared in countless films. "It's always been a song that I've loved," she says. "Then one day, I'm driving in the car and it comes on the radio, and I just started crying listening to the lyrics. Immediately I thought, 'That's the song I'm walking down the aisle to.'"
"Happy" by Pharrell Williams
After being pronounced husband and wife, the pair celebrated up the aisle to their friend singing this mood-shifting ditty. 
"Hope for Me Yet" by Marc Broussard
For their first dance, Matthew and Renee chose a song they listened to when they were first falling in love. During a road trip from L.A. to Fresno to visit Renee's family, the couple were sharing their favorite music and Matthew played this acoustic jam. "It was the first song I played for Renee where I said, 'This is how I feel about you,'" Matthew says, "and it was the first time I told her that I loved her."
"Starry Eyed" / "Video Games" Mashup
At their reception, the duo sang a hybrid of Ellie Goulding's "Starry Eyed" and Lana Del Rey's "Video Games" for their 43 guests.
"Top of the World" by The Carpenters
As a surprise to his new wife, Matthew played the ukulele and sang one of Renee's late mom's favorite songs. "All throughout my childhood and high school, my mom would sing The Carpenters at the top of her lungs," Renee says. "When Matthew sang 'Top of the World,' my sister, aunt, and I were just hysterical, but in the best way. It was so special." 
See Renee and Matthew's Wedding