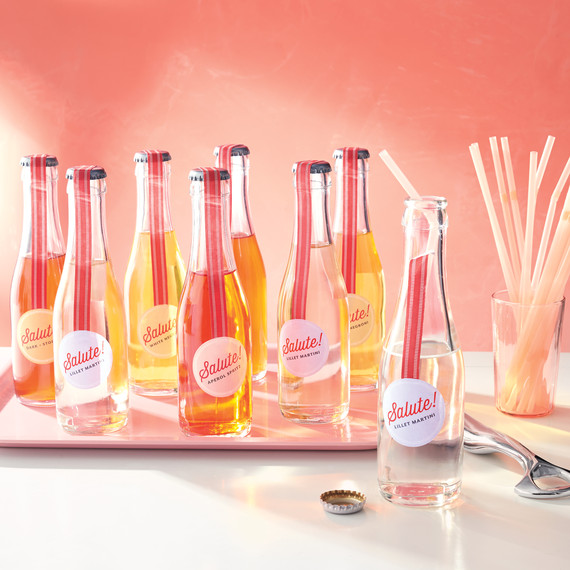 THE TOOLS
8 1/2-inch-by-11-inch white sticker paper
Circle punch
Scissors or guillotine trimmer
187ml clear Champagne bottles 
Funnel
HOW-TO
Download our label clip art and print onto sticker paper.
Cut the circles with a circle punch; cut the strips with scissors or a guillotine trimmer.
Make cocktails in large batches, taste test, then funnel it into individual bottles, and seal with a capper tool.
Place a metal cap on top of the bottle and seal it by placing the capper on top of the cap and pressing down on both handles simultaneously.
Seal with a sticker labels. Serve cold. 
RECIPES TO TRY
While certain drinks need to be shaken or stirred in the moment (sorry, margarita fans!), the four boozy blends we offer below can be mixed, bottled, and refrigerated up to a week in advance.
Lillet Martini
5 parts gin 
1 part Lillet 
2 dashes orange bitters
Aperol Spritz
3 parts prosecco 
2 parts Aperol 
1 part club soda
Dark and Stormy
4 parts ginger beer 
2 parts Gosling's Black Seal rum
White Negroni
12 parts gin 
6 parts Suze bitters 
8 parts Lillet Blanc 
6 1⁄2 parts filtered water