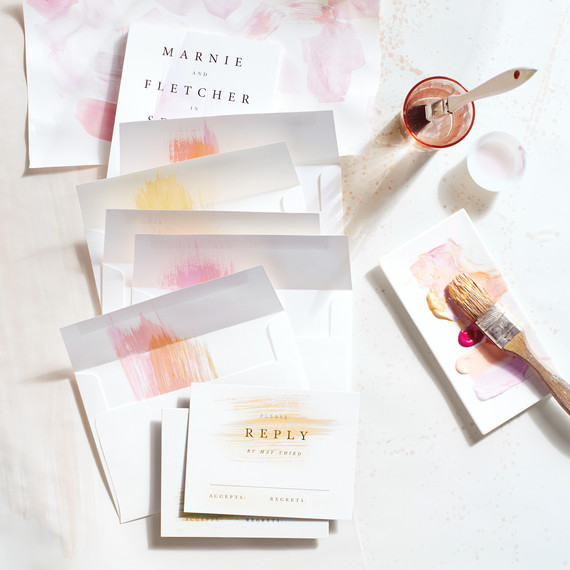 THE TOOLS
Invitation suite (a heavy paper stock works best)
Bristle brushes
Acrylic paint
HOW-TO
For the envelopes:
1. Dip a dry brush in paint and quickly paint a stroke on the inside flap of the envelope.
2. Continue brushing envelopes assembly-line style with the same paint color. Once envelopes are dry, use the same technique with a second paint color to create a layered look.
For the invitations and reply cards:
1. Dilute paint with water and dip brush in paint.
2. Add brushstrokes over type.
Note: The paint should be diluted with enough water so you can clearly read the type on the invitations and reply cards.
THE DETAILS
Jackmove "Johannis" invitations, $234 for 100, and reply cards, $147 for 100, minted.com. Martha Stewart Crafts large brush set, $15, and Multi- Surface craft paint in ballet slipper, lilac cloud, magenta rose, and gold, from $2 each, michaels.com.