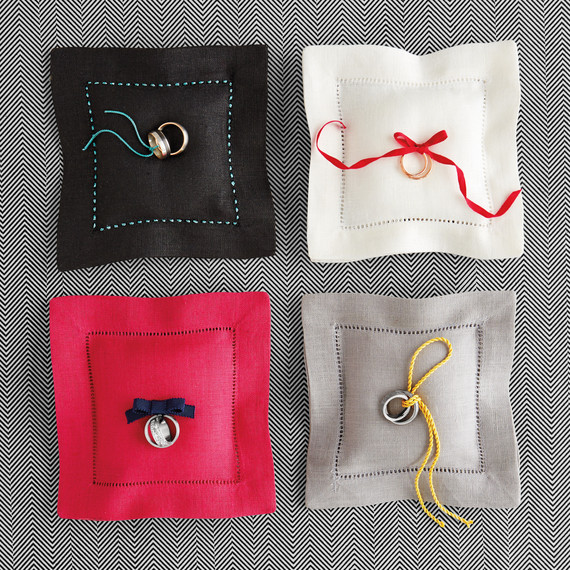 THE TOOLS
"Festival" cocktail napkins in colors of your choice
Dritz Stitch Witchery heavy-duty tape
Iron
Cotton batting
Magna-Tac 809 glue
Ribbon
Needle and thread (optional)
HOW-TO
Apply a line of Dritz's Stitch Witchery to three sides of one napkin, stack another on top, and iron to fuse those sides together. 
Add cotton batting, seal the last side, and craft-glue a ribbon to the center for securing rings. 
Feeling ambitious (but not too)? Grab a needle and some contrasting thread and make a simple stitch in the existing window-panel hem, as on the black rendition shown here.
THE DETAILS
"Festival" cocktail napkins in black, oyster, raspberry, and gray, $25 for 4; sferra.com. Dritz Stitch Witchery heavy-duty tape, $4; joann.com. Magna-Tac 809 glue, $8; mjtrim.com. Furrer-Jacot bands, prices upon request, furrer-jacot.com. DMC Embroidery Floss, color #993, $1.25; purlsoho.com. 9mm grosgrain ribbon, #02209, $1.50/yd; 9mm herringbone ribbon, #43798, $1/yd; 5mm cord in Antique, #42951, $4/yd; mjtrim.com.
See More Ring Pillows You Can Make Yourself