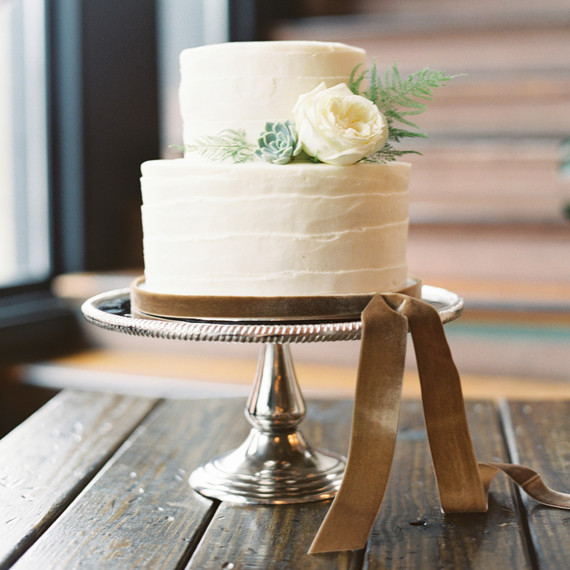 Fake a Big One 
We get it. You've envisioned that elaborate work of art since you first learned the word fondant. But that doesn't mean you have to pony up a scary price to get the sugar rush. "For budget-minded clients, we'll build faux tiers, with only two of them being actual cake so there's something to cut," says contributing editor Wendy Kromer of Wendy Kromer Confections in Sandusky, Ohio. "Once decorated, all the tiers look the same. The kitchen then serves from a sheet cake behind the scenes." 
Stay Short 
If you do want each layer to be the real thing, cut costs by keeping your cake to three tiers. Building a tall cake is more work, says Kromer, and the more height, the more moola. 
Dress Up Dessert 
Sugar-paste flowers may look amazing, but creating them is laborious, and thus expensive. Instead, you can take a slice out of your wedding cake budget by using real blooms (or ribbons) as decorations. Or find a fabulous, affordable cake topper, and let that become the wow factor.
See 21 Wedding Cake Toppers That Really Do Take the Cake
Offer Alternatives 
Just because you don't present a towering confection doesn't mean what you do serve has to be anything less than stunning (and mouthwatering). To wit, serving pie at your wedding is a delicious, and low-cost, dessert option. "They're eye-catching when displayed on pretty stands with meringue piled high or decorative crusts," says Kromer.
Check Out These Ideas for Wedding Cake Alternatives
Set Up a Dessert Bar
Think outside the tier by offering up favorite treats such as brownies, cookies, and donuts. Arrange them in a tantalizing display and make just as much of an impact as a traditional cake would.
See Dessert Table Ideas From Real Weddings