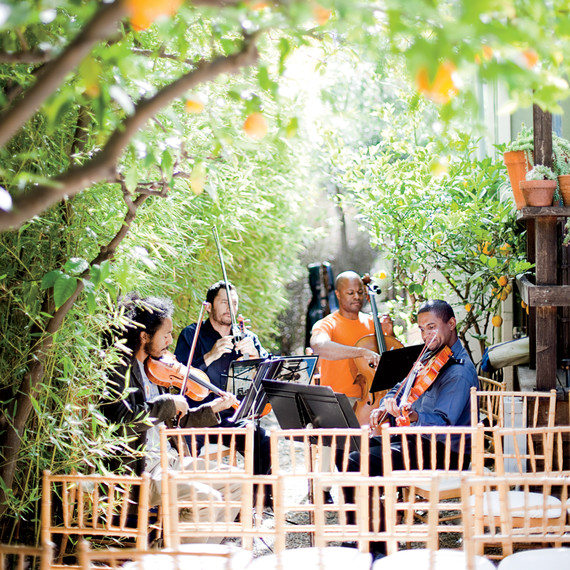 Break up the Band 
Tunes are vital; multiple bands playing them for each part of your day isn't. "Book one bigger band and break it down into smaller configurations for various scenarios," says contributing editor David Stark of David Stark Design and Production in Brooklyn. "For instance, a string duo will be gorgeous for the ceremony, while a jazz trio is fun for cocktails. Then they all come back together, making a bigger sound for the dinner and dancing portion of the evening."
Read 6 Helpful Hints You Should Know Before Hiring a Wedding Band
Hire Students
Rather than going with a pricey string quartet for your ceremony, call a music school and have them recommend an experienced student group.
Uncover Hidden Costs 
Transportation, dinner, learning new songs ... these are the fees that can sneak up on you. Request an itemized price list from the start so you can negotiate a final, and lower, amount.
Read About More Hidden Costs to Watch Out for When Planning Your Wedding
Embrace the DJ Way 
There's certainly no shame in having a DJ set up camp at your reception. "They're super-hot right now," says Stark. Plus, mix masters are fast becoming almost as ubiquitous as the traditional wedding band. The biggest bonus: DJs charge a fraction of what live groups do.
Do It Yourself
Create an iTunes playlist. Download the WeddingDJ app, which helps map out music for the entire day, and even lets you cross-fade between songs. Or get inspired on Spotify.