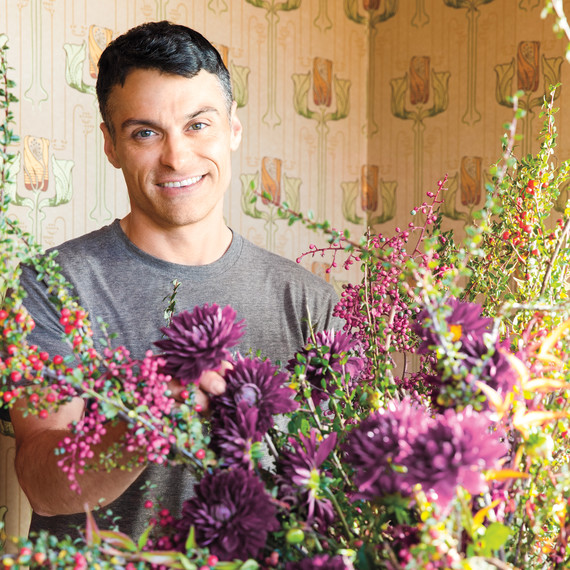 Balance Color and Shine
For the impressionistic centerpiece below, Gill showcased his newest botanical obsession, 'Koko Loko' roses, whose colors change from mocha brown to mauve as they bloom. Peach and plum pansies, chocolate cosmos, bell-shape flowering maple, inky privet berries, and clematis vine round out the scene. Gilded walnuts also make an appearance, tucked into the arrangements and scattered along the table. "For a twist, you could fill the compotes entirely with nuts instead of flowers," says Gill. "I'd gild or spray-paint most of them gold and leave the rest natural."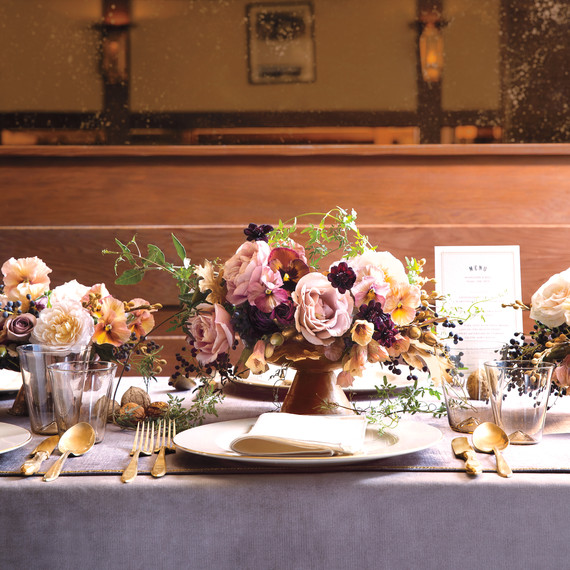 Branch Out 
"No matter the flower or foliage, when you group a single type together, it has a dramatic effect," says Gill. To create the eye-catching favor display below, he nestled varieties of oak in a copper container found at a flea market, grouped pansies in copper vases, and filled trays with takeaway mixed nuts. The setup would also make an enchanting ceremony marker or backdrop for a guest-book station or bar. However you use them, arrangements of branches can be economical as well as impactful. "A dozen garden roses may cost up to four times what five four-foot-tall stems of oak do," Gill says.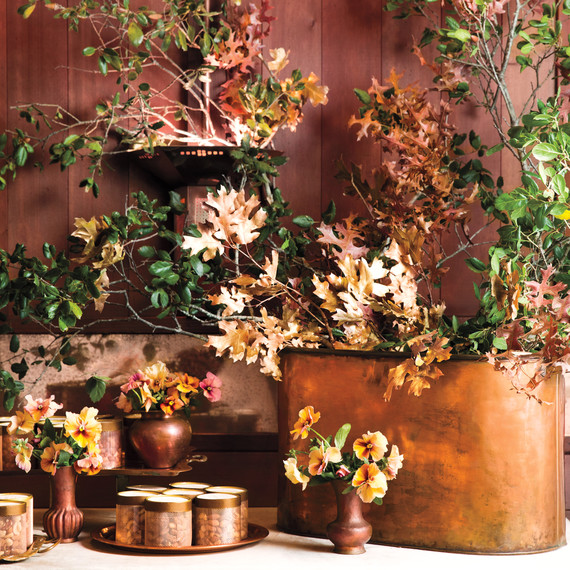 Pick a Palette, But Don't Be Afraid to Stray
"My favorite palette is lavender with chocolate and copper," says Gill. The below bouquet runs the gamut of his choice shades, with purple kale and salvia buds, black chervil, lavender garden roses, marbled coralbell leaves, and gilded acorns and oak leaves. Despite the large range of blooms, "the small clutch is special but not fussy," he says.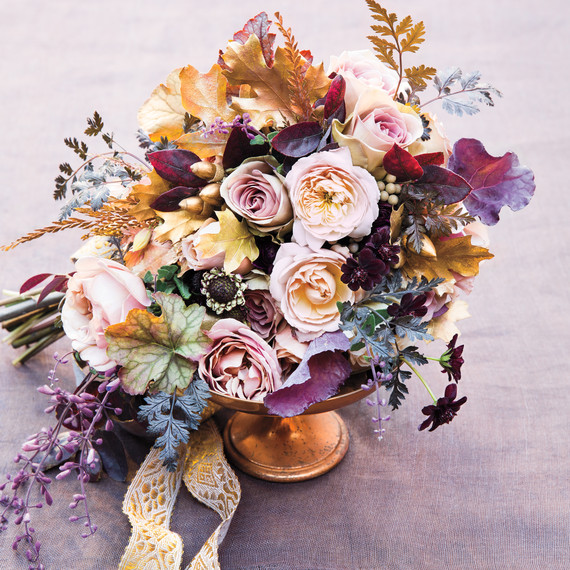 Search for What's in Season 
Consider the following lovelies for an autumn affair:
Chocolate cosmos 
Clematis 
Crab apple branches 
Dahlias 
Garden roses 
Japanese anemones