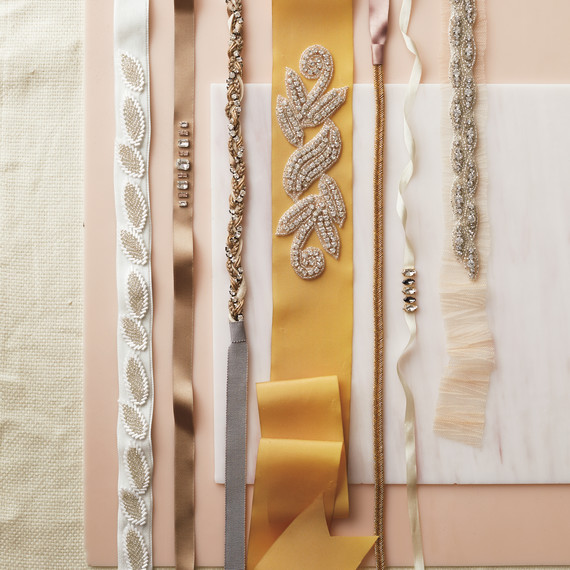 BASIC EMBELLISHED RIBBON
The Tools
Rhinestone or crystal embellishment
Ribbon (any width that fits the embellishment)
Fabric glue
How-To
1. Using a toothpick, dab fabric glue onto the rhinestone or crystal embellishment. Let it sit for a few seconds to get tacky. 
2. Press the embellishment onto the ribbon, and let dry overnight.
BRAIDED RIBBON
The Tools
Rhinestone chain, about 10 inches long
Ribbon, about 10 inches long
Trim, such as a satin cord, about 10 inches long
2 pieces of half-inch-thick velvet ribbon, about 12 inches long each
Fabric glue
HOW-TO
1. Braid rhinestone chain, ribbon, and trim, and finish ends with fabric glue. Let dry. 
2. Attach one end of the braid to one piece of velvet ribbon with a dab of fabric glue. Hide the seam with a loop of velvet ribbon. Secure with fabric glue. Repeat on the other end of the braid.
THE DETAILS
Ribbons, mjtrim.com. Trimmings, ejoyce.com; mjtrim.com; Mokuba New York, 212-869-8900; tinseltrading.com; toptrimming.com. Rhinestones, beadsworldusa.com; ejoyce.com.