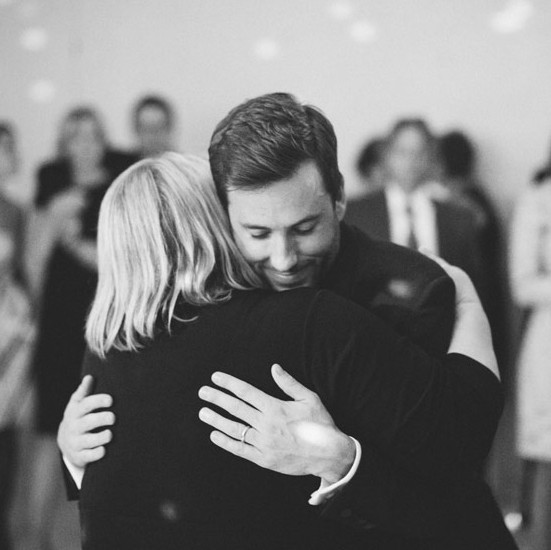 "Somewhere Over The Rainbow" by Israel Kamakawiwoʻole
O'Mahoney loves this beautiful, stripped down version of a classic. The Hawaiian music icon strums soft ukele throughout the song and ends with a transition into "What A Wonderful World."
"How Sweet It Is (To Be Loved By You)" by James Taylor 
For the groom who wants a more upbeat tune than the traditional mother-son song choice, Medina thinks this playful record will have mom and son singing just as much as they are dancing.
"Sleep Walk" by Santo & Johnny
This 1950s song feels nostalgic in all the right ways. "If you're looking for an instrumental, it doesn't get much better than this," says O'Mahoney.
"What a Wonderful World" by Louis Armstrong
Louis Armstrong's melody is a famous jazz standard for a reason! Day thinks a mother-son dance is perfect for this song about all the little types of beauty in the world.
"Forever Young" by Bob Dylan
Bob Dylan performed a fast and a slow version of this song. O'Mahoney says the slow version is the perfect tempo for a mother-son dance.
"Lovesong" by Adele
Adele's cover of The Cure's song is everything you could want in a mother-son dance song: sentimental, one-of-a-kind, and full of soul. Plus, Day says the slow tempo and Latin beat make it easy to dance to.
"I'll Always Love My Mama" by The Intruders
Just from the title alone, it's clear why Medina thinks this song is a prime contender for any mother-son dance. The affectionate lyrics like, "I'll always love my mama, she's my favorite girl," will get Mom tearing up right away.
"That's How Strong My Love Is" by O.V. Wright
O.V. Wright's version of this soulful ballad is a gem. O'Mahoney says grooms looking for a unique choice should give this song a gander.
"God Only Knows" by Beach Boys
Medina suggests this Beach Boys song about feeling lost in the world without someone you love. It's a touching way for sons to say, "I'll always love you" to their mamas.
"Child of Mine" by Carole King
Day knows that many moms watching their sons getting married today grew up in the 1970s when Carole King was huge. What better way to celebrate Mom than dancing to a song she grew up with?
"You Make Me Feel So Young" by Frank Sinatra
Medina considers this Sinatra song a beautiful choice for a mother-son dance. Don't be afraid to add some swing dance moves to this classic song!
"Days like This" by Van Morrison
Day loves the fun sing-a-long line in the chorus, "Yeah my mama said, 'There'll be days like this.'" 
"In My Life" by Johnny Cash
Johnny Cash's rendition of the original Beatles song is O'Mahoney's personal choice for those who think the Beatles version is a tad overdone.
"Rainbow Connection" by The Muppet Movie
Don't discount this song just because it's from the people who brought you Miss Piggy. "Dancing to this song is a touching way for a mother to "say goodbye" to her child as he embarks on a new journey," says Day.
"Stand By Me" by Ben E. King
This love-filled song is an oldie but a goodie. Medina gives Ben E. King's song a stamp of approval for mother-and-son dances.
"Wedding Song (There is Love)" by Noel Paul Stookey
Paul Stookey's song was made for weddings (Literally!). Day says the popular 1970s song about the blending of two lives is a touching song for mothers and sons.
"A Song For Mama" by Boyz II Men
Add some R&B to your dance with the smooth voices of Boyz II Men. Medina loves this song about the unlimited love and affection moms have for their sons.